Tough event forces nine drivers out with mechanical hiccups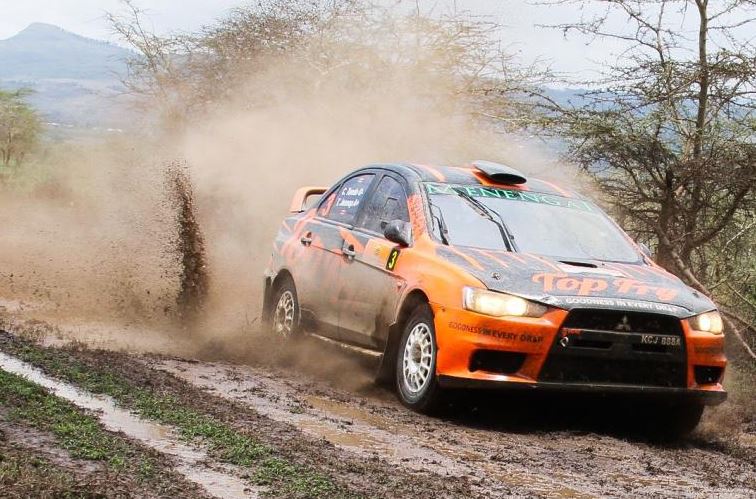 It was business as usual after Carl Tundo scored yet another victory in the 2018 Kenya National Rally Championship by winning the Nanyuki leg over the weekend.
Tundo's Mitsubishi Lancer EVO10 was quickest in all of the six stages of the competition to emerge as the overall leader of the sixth round of the national series.
Newly crowned African Rally Champion, Manvir Baryan was second overall in his Skoda Fabia out of the 18 of the original 27 starters.
Farhaaz Khan scored a commendable fourth place driving a Mitsubishi Lancer EVO10 with Keith Henrie regular navigator.
Ian Duncan's return to action after a brief absence, lasted two stages after his Nissan Pickup was grounded with mechanical failure.
Similar problems faced Frank Tundo after his Mitsubishi Lancer stopped due to a clutch failure. In all, nine crews were forced out of the rally for different reasons.
Onkar Rai's brilliant form this season suddenly came to a halt in the Nanyuki Rally after he flipped his Skoda Fabia in the first section of the competition.
Both drivers were fine though the car was slightly damaged.
Gerard Maina accomplished his mission to finish his first rally in the Subaru Impreza STI by finishing 14th overall and second in the Group S Class.
"It is never easy but the love for the sport overrides everything. My budget for contesting the event exceeded Sh300, 000. But it was my wish to have a clean drive and finish in a good position since it was a new car which had not been used to before,'' said the 38-year-old driver.
Pierro Cannobio also damaged his Mitsubishi Lancer EVO10 after a hitting a tree in the Lolldaiga Stage.
"Though Cannobio was fine, his navigator Palita Massina complained of back pains. We have taken the injured to the Nanyuki Cottage Hospital for further observation. That is all we have for now. The car hit a tree," said the event director, Bimal Patel.