Kenyan shooters headed for African Championships in South Africa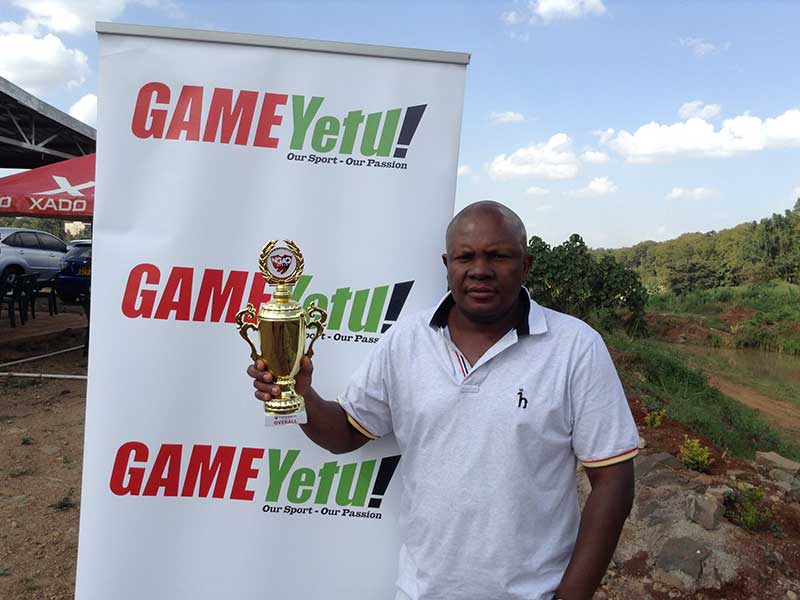 Guns, long ranges, difficult targets, what's not to love? Game Yetu always has tremendous support for this National Gun Owners Association (NGAO) sport, and this weekend was no exception.
Like snipers, range shooting competitions are all about hitting targets at long distances.
You might have to shoot them from cars. One could also shoot over and through fences, and even jumping in and out of giant tyres.
NGAO Range is tucked deep in luscious green slopes of Kirigiti in Kiambu County.
The targets at the courses include cardboard silhouettes, steel targets of varying sizes and anything else the match organizer designates as a target for that particular day.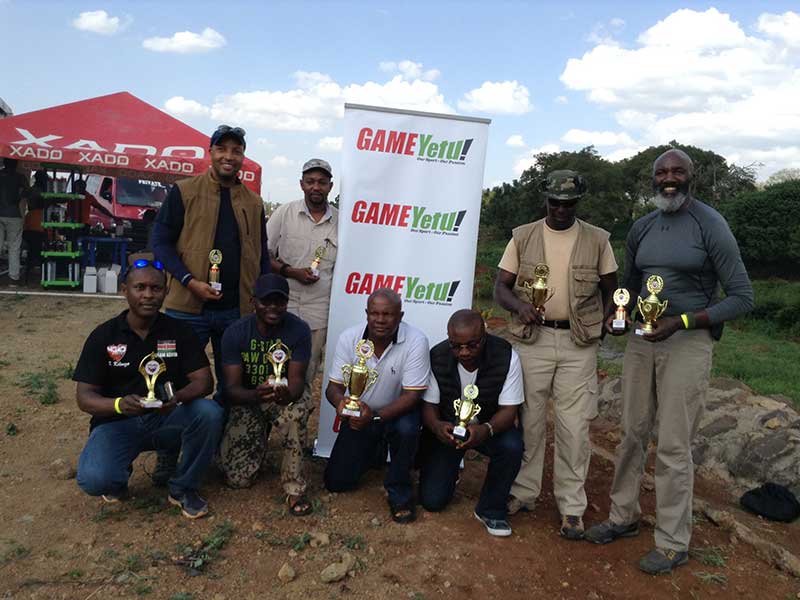 Distances of the targets vary. The shooter who hits the most targets and avoids certain "no shoot" ones in the least amount of time is the winner.
"Eyes and ears, the range is clear" shouts Peter Njoroge popularly referred to as (PN) at the range. A shooter is already seated in an old rusty car parked at one of the courses surrounded by hundreds of unused tyres which are stacked on top of each other around the course.
PN makes another command in some range lingo which I could not quite grasp. The shooter in the car starts firing at set targets, jumps from the rusty car Rambo style and moves to the next target until he finishes the roughly five targets set.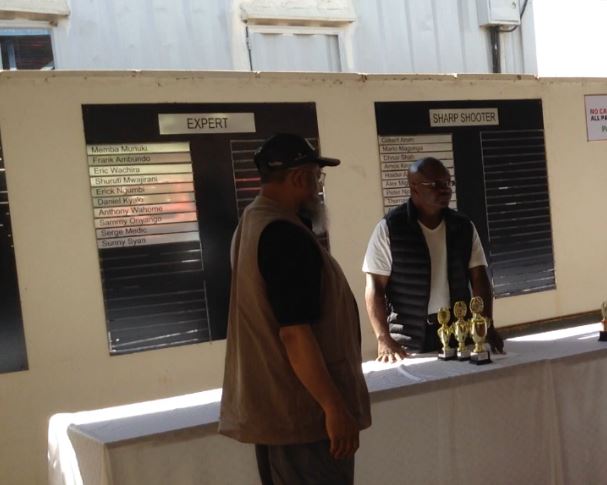 On tow is star studded shooter Alamini Lubisia recording every move with a recording gauge because that is what will determine the winner.
At some point Alamini signals to me "These are the top three shooters" Our cameraman moves in swiftly and captures them approaching.
From the background, Daftan Mwitiki a shooter asks his colleague to give a standing lady a seat, of which he obliges but has a response for Daftan.
"Daftan, wewe ni 0.5 shooter na unatuchanganisha hapa, ungekuwa full shooter tungepumua kweli kwa hii range?" Everyone in the shade bursts into laughter.
"We have a winner, but before I call upon the winner, I would like to call upon Mr. Butt Hamid to say something," Says the master of ceremony.
Butt then makes to the front in a temporal makeshift tent where the guests have just finished having a meal.
"Thank you for this opportunity. I have my family here visiting, they all live in the UK, and now they are here on holiday. I thought I bring them to the range for a meet and greet afternoon ". A family of almost ten, they all take to the front and wave to the guests.
That is the kind of ambience at the range. Easy yet sophisticated with a touch of opulence.
The weekend fixture featured various categories including Novice, Marksman, Expert and Masters categories.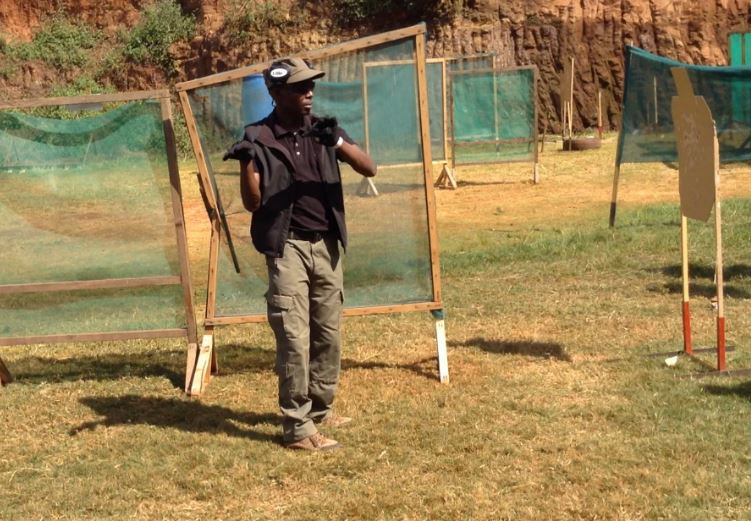 Eng. Robert Nyamongo the highest ranked masters' shooter in the country and overall winner of the tournament takes pride in helping the other 'guys'. As he receives his trophy, he takes a few minutes to give tips on how to become a better shooter.
The Kenyan team will be leaving for South-Africa in two weeks whereby they will be competing with about 300 shooters from across Africa for the International Defensive Pistol Association (IDPA) African Championships. It is the third time Kenya is sending a team.
Last year the Kenyan team recorded good results whereby Eng. Nyamongo made it to the masters' category, and another shooter Mohammed Omar became 3rd overall in the expert category.
RESULTS FROM THE WEEKEND FIXTURE
MASTER CATEGORY
1. Robert Nyamongo
2. Mohammed Omar
EXPERT CATEGORY
1. Sammy Onyango
2. Memba Muriuki
3. Shuruti Mwajirani
SHARPSHOOT CATEGORY
1. Thomas Kiilu
2. Soi Kilonzo (From Mombasa)
3. Geofrey Pesa
MARKSMAN CATEGORY
1. Benjamin Muema (Prisons)
2. Gikonyo Mwangi
3. Hamid Butt
NOVICE CATEGORY
1. Robert Kibuturi
2. Eric Njuguna
3. Ainea Ojiambo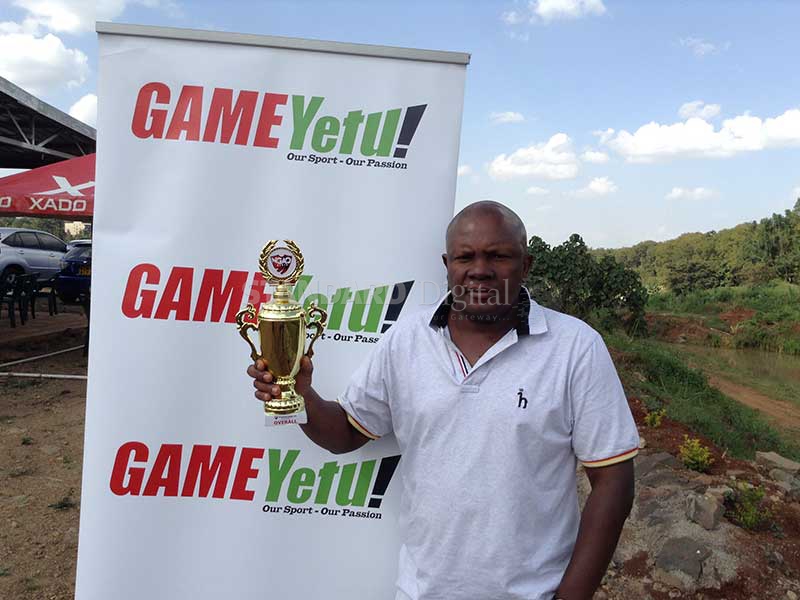 Things however took a slight turn for Celebrated Expert shooter and Chairman of the National Gun Owners Association NGAO Anthony Wahome who shot hurriedly earlier in the day and had to leave in a rush to take part in a Polo tournament.
He became 11th overall in the combined results. He will however be joining the team that leaves for the African Championships in Johannesburg from the 9th to 12th of August.