Polo: Stonefish & Urchins lift 2018 Mugs Mug tournament title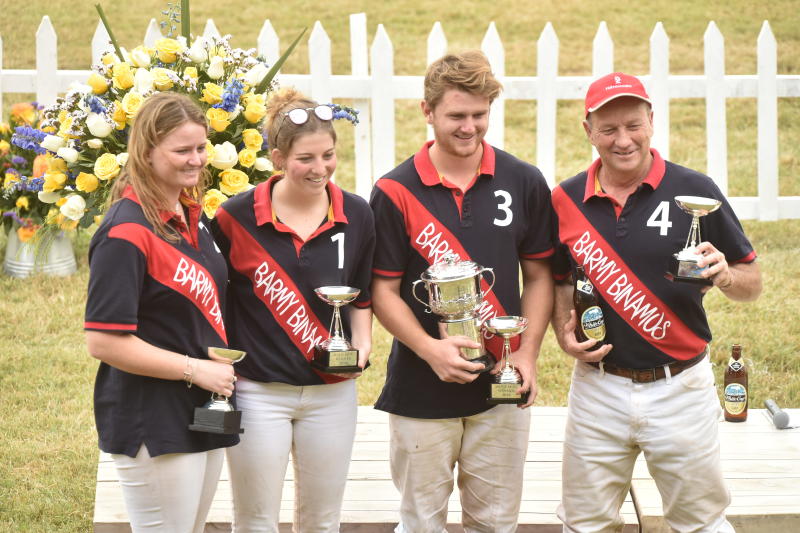 Stonefish & Urchins beat Hoof Hearted 6-4 to lift 2018 Mugs Mug Polo Tournament at Nairobi Polo Club in Jamhuri on Sunday evening.
Handicap three player, Richard Stonewigg, was the star of the game as he raked in five goals for the winners in a pulsating final that left everyone at the edge of their seats.
His daughter, Emily, who is handicap -1.5, slotted the other goal that sealed the deal for the champions whose other members were Harry Griffiths (1) and Megan Griffiths (0.5).
Hoof Hearted, composed of Mbu Ngugi (2.5), Harry Stichbury (0.5), Izzy Stichbury (-0.5) and Lochie Stichbury (-1), started the match with a fraction advantage.
Harry notched a hatrick for the losing effort as Ngugi scored the other goal for Hoof Hearted who went down fighting.
"It was a well-balanced encounter, we managed to beat our opponents because we were swift for the ball.
"I'm glad that everyone played their part in the team," underlined Stonewigg who first won the cup with his father in 1974, before reclaiming it with his wife in 2013 and now with his daughter in 2018.
"I also want to thank our opponents for the competitive and thrilling battle they displayed on the field.
"The momentum is already set for next weekend's showpiece and I hope to be in the finals again," underscored Stonewigg.
Cruise Control edged Solovino 5-4 to lift the plate trophy while Off Beat nestled the bowl category after hammering Work In Progress 5-0. Shield was won by Stray Dogs who edged Talent Search 6.5-5. [Standard Reporter]
QUOTE
"This is a very nostalgic day for me because it reminds me of 1974 that I won this cup with my father. I lifted this trophy again five years ago with my wife and today I have done it with my daughter," handicap three player and Stonefish &Urchin captain, Richard Stonewigg.
UTILITIES
Mugs Mug 2018 Tournament Collated Results
Main Cup Final
Stonefish & Urchins 6 4 Hoof Hearted
Plate Final
Cruise Control 5 4 Solovino
Bowl Final
Off Beat 5 0 Work In Progress
Shield Final
Stray Dogs 6 5.5 Talent Search
Preliminarily Results
One Millar Lite 6.5 5 Cruise Control
Turkish Delight 8 5 Stray Dogs
Talent Search 8 2 Work In Progress
Hoof Hearted 6 5 One Millar
Stonefish & Urchin 7 5 Off Beat
Turkish Delight 7 5 Solovino
Hoof Hearted 7 1 Talent Search
Stonefish & Urchins 5 Turkish Delight 1