Olympic Mixed and Soweto retain girls football and volleyball titles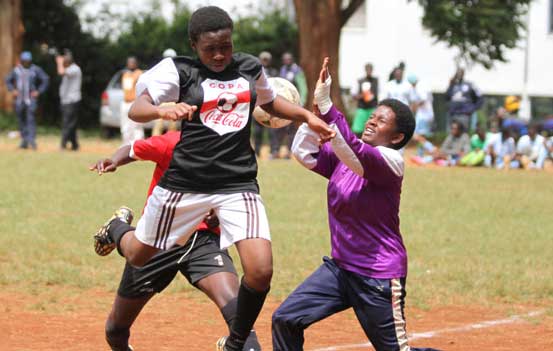 Olympic Mixed and Soweto retain titles
Dagoretti High School are the new Nairobi Region boys Under-19 football and rugby sevens champions.
Yesterday, they won their respective finals as this year's Nairobi Region Term Two games ended at Lenana School. Dagoretti's junior side were unlucky in the Under-16 contest as Upper Hill retained their crown in 3-1 in post-match penalties.
It was end of reign for last year's national Under-19 football champions as Dagoretti beat them 2-0. Two quick goals in the first half were Dagoretti needed to secure their debut at this year's National Term Two games set for Hill School, Eldoret, next month.
After 60 minutes without goals, Bonface Mwangemi broke the deadlock in the 32nd minute to earn Dagoretti the lead. The goal ignited Dagoretti's desire for victory as they began their hunt for a second goal and their efforts paid off two minutes later as Oscar Owino outsmarted Upper Hill defenders and goalkeeper to give them a 2-0 advantage.
Upper Hill regrouped in the second half but Dagoretti were not ready to surrender their lead and fought on to the final whistle as the two sides made several failed attempts. Upper Hill coach Joseph Makokha said their focus shifts to preparation for the national games. "We will shelve our celebrations for now because we will begin training for the nationals immediately. Our aim is to excel at the nationals and qualify for East Africa games," Makokha said.
In rugby sevens, Dagoretti beat East Africa champions Muhuri Muchiri 17-0 to pick the bragging rights. Emmanuel Shikuku, Benson Salem and Kevin Karanja scored one try each with Karanja making a successful conversion off his effort. Muhuri Muchiri also qualified for the nationals and will be battling for a ticket to Rwanda where they will give hoping to defend their gong.
Olympic Mixed ruled the roost defending their Under-19 and Under-16 titles. Their Under-19 side thrashed Buruburu 5-0 in a match they dominated from the onset. Shayvon Kadenge Imbembi Namale netted a brace each while Salome Dyrila was on target once. Their junior team who are the reigning national holders edged Dagoretti Mixed 1-0.
Soweto Academy beat Pangani 3-0 (25-4, 25-12, 25-7) to retain their trophy. In the boys contest 2013 national winners Hospital Hill surrendered their title after losing 4-1 (25-15, 26-28, 25-22, 25-18). [Elizabeth Mburugu]
Denmark beat Peru 1-0 in World Cup
Denmark beat Peru 1-0 in both sides' World Cup group stage opener on Saturday after Christian Cueva blasted over a VAR-awarded penalty for the Peruvia