Asumbi and Eregi in top form: Trainee teachers battle for honours in various sports disciplines in Vihiga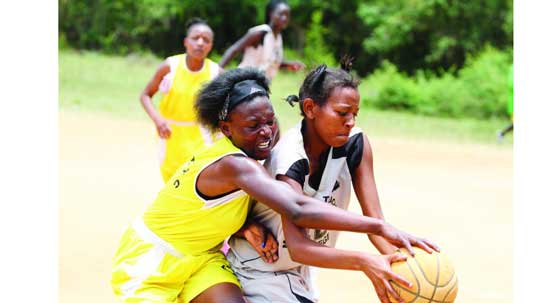 Ten-time champions and teachers' college games hosts start on good footing.
Favourites Asumbi and Eregi lived up to their billing on day one of this year's Kenya Teachers Training Colleges Sports Association national games currently on at Eregi. Asumbi showed intent to retain their men and women's basketball titles launching their defence on high with victories against Moi Baringo and Meru colleges.
Eregi, who ruled the 2016 championships, but relinquished most of their crowns last year were on fire chalking victories in their opening football, handball and basketball matches. Tambach and Kericho also excelled in handball to improve their chances of advancing to today's semi-finals.
Asumbi men proved they are indeed the kings of college basketball trouncing Baringo 65-28 in their opening match. Collins Ochieng was in top form scoring 32 points four more than his opponents could score in the game. Chrispine Ochieng and Elvis Opondo scored 22 and 11 points respectively for Asumbi who are eying their tenth national gong. In another men's clash two baskets made the difference for Muranga as they beat Egoji 33-29 to better their chances of securing a last four slot.
Retain title
Collins, who had a good day in office after also excelling in their 73-35 win against Kaimosi said that their main objective is to retain their title. "Our predecessors have dominated the nationals for many years and we are determined to maintain that legacy."
Jacky Chacha was the star of the women's match with 21 points as ten-time champions Asumbi registered victory in their event opener. The Nyanza Region teachers dominated the match from the onset taking the first quarter 12-4. Meru fought back with a tight defence in the second period, but Asumbi pushed harder to take a 20-11 lead at halftime.
Meru slackened in the third and fourth quarters making it easy for Asumbi to score 15-6 4 and 13-6 for a 48-19 victory. Hosts Eregi did not disappoint as they thrashed their guests Baringo 53-27 in another womern's encounter.
In handball, defending champions Eregi women capitalised on home support to beat Kamwenja 26-15 while their men beat Egoji 25-16. Maximillah Werunga top scored for Eregi with seven goals with Sharon Akodoi hitting the target six times for Eregi. Faith Njoki and Miriam Oundo were lead scorers for Kamwenja with six and four goals.
Mwingi began their men's volleyball title high with a straight set 25-17, 25-22 and 26-24 win over Baringo. Despite taking a one set lead, Rubate failed to hold on to the end going down 3-1 to Asumbi. In the women's contest defending champions Eregi beat Egoji 3-0 (25-16, 25-12, 25-13) whereas Kagumo were 25-15, 25-17 and 25-12 winners over Shanzu.
Collated results
Handball men
Tambach 25-22 Asumbi
Muranga 25-15 Kitui
Egoji 16-25 Eregi
Handball women
Eregi 26-15 Kamwenja
St Mary's Bura 1-5 Egoji
Kericho 25-10 Asumbi
Netball men
Lugari 19-16 Egoji
Kitui 16- 20 Asumbi
Asumbi 21- 15 Tambach
Lugari 28-18 Kamwenja
Netball women
Tambach 17-16 Kilimambogo
Eregi 23-20 Thogoto
Shanzu 20-28 Asumbi
Tambach 13-23 Asumbi