KSE takes swimming to grassroots level by launching the Eastland swimming club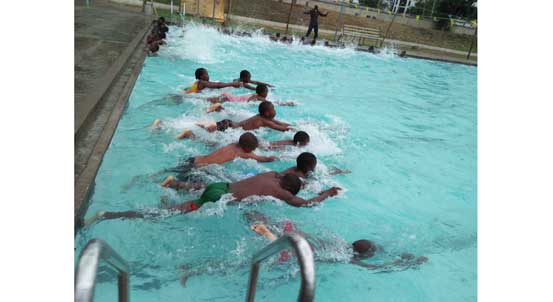 Kenya Swimming Enterprise (KSE) launched the Eastland swimming club at Rabai road primary school, in Nairobi on Saturday morning during an annual gala event dubbed 'Swim for life'.
In their efforts to raise awareness and develop swimming talents from grassroots level, KSE director Mr Lucas Makokha expressed his optimism while undertaking this project. "We are trying our best to make this dream possible for the children of Nairobi Eastland. For the few that come here, it is clear that there is massive potential which if properly tapped and managed, then we might just have great swimmers from this part of Nairobi who will go on to swim for our country," said the KSE director.
The crime prone estates of Nairobi Eastland's have many challenges at both family levels to institution management level. However, despite this Rabai road primary school swimming pool has been able to attract more than five hundred children of different ages from all over Makadara Constituency as the pool enjoyed the second annual ' Swim for life' gala event.
"It is an amazing venture that is very challenging and exciting at the same time. When we came here four years ago, this pool had been closed. Through the help of the previous Member of Parliament Mr. Benson Mutura and the CDF fund, we were able to revive it and attract swimmers," said an excited pool manager Mrs Collette Ndiema.
Mrs Ndiema also highlighted on the challenges she faces while managing Rabai Road primary school swimming pool and urged the local government not to neglect the pool. " This swimming pool is a great resource center, it is a shame that at times our showers have no running water, we do the cleaning ourselves and have to generate enough revenue to be able to pay our personnel here," Ndiema summarized her dissatisfaction of the local government.
The 'Swim for life' gala event attracted five local primary school students as most schools did not send their students because of the unpredictable rainy weather patterns in Nairobi. The five were Rabai road primary school, Citam schools, Shepherds academy, Kinderstat academy and Happyland academy. The event organizers categorized the competitors through age groups 6-7 years old, 8-9 years old, 10-11 years old, 12-15 years old, above 16 years old for both men and women.
In the Individual Medley (IM) category, Naomi Claire from Citam schools took the honors while Ann Wanjiru from Shepherds academy won the second place. Both Citam and Shepherds academy are from Buruburu estate.
Ann Wanjiru came out strong to win the breast stroke for the 10-11 year olds category. Emmanuel Ochieng from Citam schools won the second place while Ruth Cheti from Citam took third place. The order did not change much when they went for the free style under the same age group. Here Naomi Claire won, Ann Wanjiru was second and Ruth Cheti took third place.
Happyland primary school's Natasha won the 12-15 year old category. Regina from Kinderstat academy took second place. Happy land and Kinderstat are from Uhuru estate. The final showdown was the last category of the above 16 year olds where Roney Roberts from Buruburu estate took top prize honors. Francis Makali from Jericho came in second.
Swimmers from the host, Rabai road primary school were not lucky to scoop honors, but still gave in strong performances from 11 year olds John Mwangi and Felister Nyokabi, 12 year old Irene Achieng and 13 year old Stanley Ochieng. The winners in all categories were awarded trophies and medals.
Lucas Makokha and Collette Ndiema are hoping to change lives in Nairobi's Eastlands by offering more sporting options. The two are urging the local government to invest more in swimming infrastructures and hope that the 'Swim for life' annual event will become better through the newly launched Eatslands swimming club. Their immediate dream now is to involve more public schools into their program and hope that it bears fruits.