'Flash' seeking to equal Shekhar Mehta's record of five wins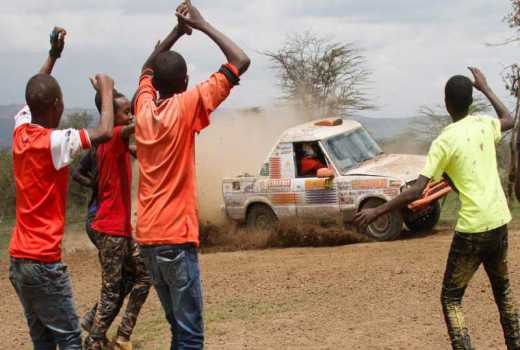 Carl "Flash" Tundo and his partner Tim Jessop were the masters of the "flash floods" on the second leg of the Safari Rally yesterday after extending their lead by 22 seconds.
Tundo who is seeking to equal Shekhar Mehta's record of five wins maintained his dogged campaign in search of 2018 honours after clocking a cumulative time of 1:36.52.3 hours in the wet, muddy and slippery conditions which are already proving quite unforgiving to the top local crews.
Onkar Rai is lying second in 1:37.14.3 hours. Third is Rai's Kabras Sugar Racing teammate Baldev Singh Chager.
Uganda's Jas Mangat is still the highest-placed foreigner in fifth followed by Kenya's Eric Bengi and Ugandan Duncan Mubiru.
Fazzy Khan of Kenya is placed eighth on the day two leader board.
Whatever happens to the crews today will depend upon the "rally gods" of the great Rift Valley with two more stages expected to wrap up the 2018 edition.
"The situation is very unpredictable," said Bengi adding: "We had a clean run for the day. A good shake down on the opening day and a good start. We are very happy with the result and hope to keep up the pace tomorrow. Just taking it easy and clean."
The rally culminates at the Sopa Lodge in Naivasha today which has been the venue of the perc ferme and service for Day One.
Day Two of the event yesterday saw defending African Rally champions Manvir Baryan and Drew Sturrock in a Skoda Fabia R5 retire with radiator gremlins.
Baryan had won Stage 4 before the DNF and was lying second overall behind Tundo who still leads the event. Dilraj Chatthe, Ahmed Huwel are also out of the rally.
Despite their exit, the Skoda Fabia R5 crew proved their mettle as one of Africa's best.
"The water splash was to much and the mud entered into the radiator and it was blocked. It eventually caused overheating. We noticed the problem just about ten kilometers to the final finish," said Drew Sturrock.
"The race was exciting so far. We had a good run, the synergy in the car was good. I believe if we stayed in, we would still be fighting for the top," he said.