Why bans have failed to stamp out vice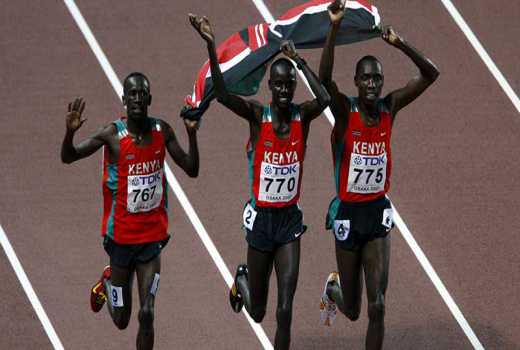 Athletics Kenya (AK) allowed an athlete who had tested positive for doping to compete in a marathon only for the red flag to be raised by the International Association of Athletics Federations (IAAF) before the race.
Correspondence between IAAF, Athletics Kenya and the agents of Viola Kimeto which the Saturday Standard has obtained four years after the embarrassing debacle in Zagreb, Croatia, could be a tip of the iceberg on how unscrupulous individuals continue to taint Kenya's standing in the world of athletics.
By our count, at least 47 athletes from Kenya have tested positive for banned substances since 2011. That is an average of six top performing athletes every year but despite these screaming statistics, authorities seem to be watching from the sidelines instead of tackling the vice head-on.
Ruth Jebet, a Bahraini-Kenyan who was reported to have tested positive for a banned substance two weeks ago, is the latest addition to the statistics of elite runners that continue to raise fears about the level of doping among our athletes.
Although the reigning Olympic 3,000m steeplechase champion and world record holder forfeited her Kenyan citizenship when she was 17, she still trains in Kapsabet. This fact alone raises eyebrows on the use of banned substances.
But it is the case of Violah Kimeto that puts to question how Athletics Kenya works. Why Kimeto was allowed to compete after AK had been informed by IAAF that she had been banned is still a mystery. Sources at AK say the organisation keeps a database of all the athletes who have been banned and it is impossible for a lapse in judgment like that to occur.
"The above named athlete has been invited to travel to Italy to compete in the Zaghreb Marathon. It is in this regard that we are requesting you to issue her with a visa to enable her travel and compete. The race organisers will cater for the expenses," Susan Kamau, who was then an administrative officer at Athletics Kenya, wrote to the Italian Embassy.
The letter is dated October 3, 2014, and Ms Kamau -- who is now the head of Athletics Kenya -- directed us to the organisation's communications office.
"I can direct you to our public relations officer and he will be in a position to respond," she said. She never did.
Ten months before Kimeto was pulled out of the race in Zagreb, IAAF had written to AK asking them to issue her with a suspension letter after her urine sample tested positive for Norandrosterone.
"Norandrosterone is prohibited under the 2013 WADA prohibited list. The presence of a prohibited substance or its metabolites or markers in an athlete's sample constitute an anti-doping rule violation," said IAAF through Gabriel Dolle, its anti-doping administrator.
In the ensuing embarrassment after being denied to participate in the Zagreb Marathon, Kimetto -- who has since returned to training -- claimed she was not aware she had been banned saying there was a miscommunication.

The incident however is just an example of how incompetence, lack of will by those in charge and a desire for success is providing a conducive environment for athletes to dope. Since Nyantika Maiyoro became the first Kenyan to represent the country in the 1956 Olympics, Kenya has amassed a total of 102 medals, more than any other country in Africa.
But despite this impressive feat and the recurrent cases of our athletes caught doping, Kenya does not a have a government testing centre. All attempts at setting one up have never gone beyond press conferences where they are announced.
As a result, many athletes do not get tested during training unless they are signed to some elite camps. And even then, this has done little to curb the vice, giving cartels a free hand to distribute and administer performance-enhancing drugs.
"Sports entirely is a cartel," Moses Kiptanui, a respected former athlete and ex-3,000 metres steeplechase record-holder tells Saturday Standard.
"The cycle of life of an athlete is from rags to riches, then from riches to rags. Those who don't invest their money well end up as coaches because they want to use other people to make them rich again. They can do anything, including doping," he says.
Although doping can either be accidental or deliberate, the vice is booming business for doctors in the North Rift towns that form the athletics belt, as we found out. Within athletics circles, the performance enhancing drugs are known as boosters and athletes talk about them openly.
"All of them are powerful but it depends on how it bonds with your body plus the strength of the drug you get injected with," an athlete who has won two marathons in South America and confessed to using EPO told us on a cold afternoon in Iten.
"You think it is a secret? Just ask around. It is very easy to know who has used boosters and who is not. The names will shock you," said another athlete who is a former world champion who also confessed to using EPO.
EPO is known to boost oxygen supply to the muscles and is generally the drug of choice for cheating athletes throughout the world. Used for treating patients suffering from anaemia, it is a genetically engineered hormone that stimulates the bone marrow to produce more red blood cells.
The kidneys naturally produce a hormone called erythropoietin. In the 1980s, scientists figured out how to engineer the hormone. Today, it is one of the largest selling doping drugs in the world. In Kenya, it can only be administered by a doctor. But in Iten, Kapsabet and Eldoret it is readily available at specific doctors who are known in athletics circles because they aid athletes to dope.
In the Rift Valley athletics underworld, they are sold using the names Genotropin, Epoeitin Alfa, Ricormon or Venta. Epoetin Alfa is also added to Anti-Retro Viral (ARV) drugs to treat HIV-positive patients and can be acquired from government health facilities through the back door.
At the doping clinics, one injection can cost between Sh5,000 and Sh200,000 depending on the strength of the hormones in the drug and the difficulty of getting a doctor to do it. It took us four days and about a dozen intermediaries to get a doctor willing to talk to us.
"The highest is 8,000 IU," said the doctor who administers doping drugs to athletes.
"But just coming to me and saying you want EPO or having the money is not everything. The administration is scientific and depends on a number of factors," said the doctor.
The effectiveness of an EPO drug is measured by its IU (International Units) and a doctor has to first ascertain the amount of haemoglobin present in an athlete intending to dope as we found out. The amount of haemoglobin, which in medical terms is represented by the initials Hb, determines the strength of EPO that will be administered.
"The ideal blood Hb is between 12-13 which will require the athlete to be injected with an EPO with an IU of 4,000 and it has to be done 16 weeks to the race," said the doctor.
"Anything less than a blood Hb level of 12 will mean the athlete will have to get a blood transfusion first preferably with blood from another athlete before we administer EPO," said the doctor.
Once administered, an athlete should train hard in order for the bone marrow to produce more blood cells. Initial effects include total lack of sleep, hyper-activeness and an increased sexual desire. James Kipkirui, a hotelier in Iten suspects it is the reason the town has almost zero prostitutes.
"They (prostitutes) say the athletes have too much appetite they would rather avoid them," he said.
"Just ask yourself how a town with all these millionaires running around has almost no night activity," he said.
Doctors try to give the dosage so athletes benefit in training, but it's out of their system before they race. There's almost no random testing of athletes in Kenya during training.
So lucrative is the desire that athletes, their agents and managers, too, have devised ways to avoid being tested or testing positive for these banned substances. One way, as we found out, is only participating in races where the prize and appearance money is less than $5,000.
Since the costs of organising such races is minimal and they rarely get media coverage except from the towns they are in, organisers do not test athletes at all. The other way is competing in races held in countries like China where testing for banned substances is rarely done. As a result, some athletes have become agents themselves organising fellow runners for races in China.
"The money is small yes but if you pick $5,000 here, $3,000 here and another $6,000 here, that is $14,000 (Sh1.4 million) which you can't get through an agent struggling to get you to a single race in Europe that pays $10,000," said another athlete.
"In fact in China, the organisers give you your cheque immediately after the race when you are in the dressing room which means you don't even need an agent, just connections," said the athlete. Another way of avoiding being detected is over-drinking.
"If they insisted on drawing blood during the tests, most of the athletes who dope would be found. Beating a urine sample test is very easy," said an athlete currently facing a ban after testing positive to a banned substance.
"The alcohol helps to prevent your liver from being roasted because the drugs are too strong. It also makes the blood light which increases the amount of water in your urine so during the test it is difficult to detect the drugs," said the athlete.
But for those who have money and can access a good doctor especially in Eldoret, four units of their blood is withdrawn, centrifuged and stored 8-12 weeks before a race. This according to a doctor who does this complicated procedure enables the body to re-establish red blood cells to levels that existed before withdrawal. The blood is then reintroduced to the body a month to the race.
For those who are lucky not to be caught, an instant escape from poverty awaits them. Danger is however always lurking. EPO can cause heart attacks, strokes and liver damage. Cases of athletes collapsing and dying without any signs of sickness have been on the rise. Although none of the family members of some of the athletes who have died mysteriously admitted they had doped, talk in the industry is that their deaths were related to using banned substances.