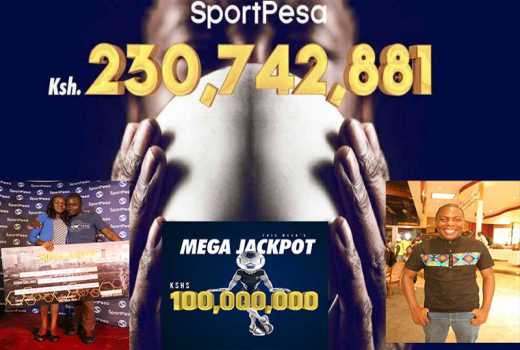 Silver Chrysler limousine drove into Carnivore Restaurant escorting one of the newest millionaires in Kenya on Wesnesday, February 7 in the afternoon. Gordon Paul Ogada had just won Shs 230,742,881 SportPesa mega jackpot after getting all his 17 betting entries right.
Accompanying the 35 year old father of two was his wife Agnes Nasirumbi, an equally young urban woman who had to contend with her husband's 'annoying' betting habits, at least before the unforgettable fortune came their way.
SEE ALSO: SportPesa CEO Karauri, FKF boss Mwendwa war of words sparks social media uproar
This was a big day for the couple who had fulfilled what many people just drool for, and they had turned up to pick their paycheck.
Ogada would then narrate his journey towards winning the largest sports betting reward in East Africa, much to the surprise of the audience. He did only depict resilience, passion and hope in his character but his age was also a centre of attention. At 35, he perhaps still has many years to put his life in proper shape as many would put it. But this was a turning point that set in somewhat early.
SEE ALSO: Resurrection of betting industry may be short-lived
Flanking Ogada was Samuel Abisai, a youthful man from Western part of Kenya, Kakamega who walked away with the first mega jackpot to be ever paid on the Kenyan soil. Abisai won the money while 28 years old in 2017 and his flashy dressing code tells a transformation in his life.
The duo are not the only persons to have won millions in the betting industry in the country. But what makes them more unique is the fact that they bagged several millions after overcoming more perils brought by a number of predictions they had to overcome. Such was their justification for winning more.
SEE ALSO: PSG's Tuchel optimistic Mbappe can feature against Atalanta
In November 2017, a 24-year old office assistant known as Evalyne Karaba walked away with Shs 20 Million shillings Betin jackpot. As is the norm, women are deemed to be disinterested in soccer and that is the genesis of the perception that they will end up with skewed guesses. Karaba overcame this through what she described as "pure guesswork" to be a millionaire.
She confessed being green in football games but surprisingly trusted her ignorance with Shs 399, which paid fruits.
A few months before that in 2017, Quinter Chemei Nimo from Mt Elgon Bungoma County had experienced similar fate. The 23 year-old college drop-out decided to place her bets just as a trial after seeing her friend do it. She then won Shs 31 Million jackpot with SportPesa after predicting 13 matches right.
Consistent trend
Many Kenyans have their attention drifted to the personality of who 'laughs the loudest' after winning. In that case, winners' occupations, gender and methodology of winning have been the focal point. There has however been unnoticed consistency that most winners are millennials.
Kenyan urban streets are often frequented with young people who are mostly glued on their phones and holding pens and pieces of paper. They talk of 'last night games and todays' games.' Some brag at their victories as others count their losses.
It is a culture that perhaps mirrors lunacy and looks psychologically expensive to those who are above 40 years.
Betting seems to be the only hope for many young people in Kenya, whether working, jobless or in business. Many Kenyans confess that they are able to bankroll their monetary obligations from the betting proceeds.
A research that was conducted by Geopoll in Kenya, Ghana, Tanzania, South Africa, Nigeria and Uganda ranked Kenya as the country with the highest number of betting youth.
The 2017 survey encompassed the sampling of young people within the bracket of 17 years to 35. The research indicated that young people in the said countries spend around Shs 5000 on betting every month. Football betting emerged as the most popular form of gambling during the study.
Another study by the World Bank indicates that Kenya's unemployment among the youth stands at 22%. This is a 1% decrease from the 23% in 2015, but could be the reason behind the activeness of the youth in betting industry.
While psychological experts attribute gambling to the psychological reasons like one seeking for self-gratification and entertainment, scientists have other arguments supporting varying behaviours in betting along age and gender lines.
According to Dr Mark Griffiths, a British psychologists who works at Nottingham Trent University, young people have higher chances of engaging their brains more than the older ones. This explains why they bet more, like in Kenyan case.
His statement in Psychology Today reads:
"Older people tend to choose activities that minimise the need for complex decision-making or concentration e.g., bingo, slot machines"
As Kenya waits for the next mega jackpot winner, odds are obviously slashing on the identity of the person. The next person to be crowned a millionaire will likely be a millennial, a youth who is 'hustling.'