Kenyans eye Dubai, South Africa trophies: 50 qualify for international meets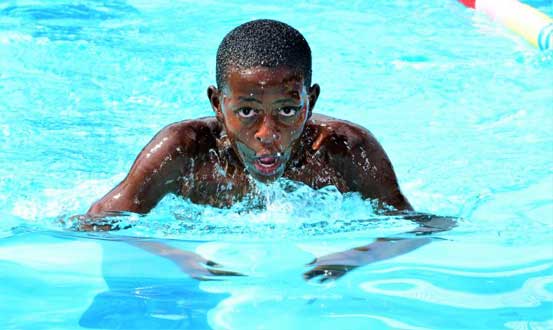 Tevin Waweru of Moi Educational Centre qualifies in the boys' Under-7 100m Individual Medley.
Fifty swimmers will take part in the forthcoming South Africa and Dubai Championships.
The lucky swimmers were winners in different categories in the Kenya Swimming Federation (KSF) Nairobi Branch Level One gala at Makini School over the weekend. The gala was attended by 1,600 swimmers.
Joy Wangeci of Nairobi Teens Swimming Club clocked 2:37.17 to win the girls' Under-7 100m Individual Medley.
Tevin Waweru of Moi Educational Centre also won the boys' Under-7 100m Individual Medley title in 2:13.47.
Kahina Kidha (1:57.92) of Kenya Swim Club won the girls' Under-10 100m Individual Medley, while Yash Karia (1:51.95) of Strokes Swim Club won the boys' race.
"I will continue to work hard and improve her techniques. My aim is for her to break the record (1:52.41) set by Saniya Omoro in October last year," said Wangeci's coach, Vald Mazazi.
"I'm good in breast, back and butterfly strokes. I will be happy to hold titles in these categories," Wangeci said.
The KSF Nairobi Branch PR Officer, Ken Karani, said they were planning to send 100 swimmers to the meets in Dubai and South Africa.
"We will take 50 swimmers to the Dubai Championships on March 16. Another 50 (30 in Level One and 20 in Level Two) will head for the South Africa Championships on April 3-7," said Karani.
He added they would also send 50 swimmers to the Hamilton Aquatics Summer Sizzler Swimming Championships in Dubai in June, where Kenya won 26 medals (16 gold, four silver and six bronze) last year.
Mazazi, the team's head coach in last year's Dubai event, said they would work hard to improve their timings before leaving for this year's meets.