Moi Centre fetes rising sport stars: Nairobi-based Moi Educational Centre rewards top performing pupils in sport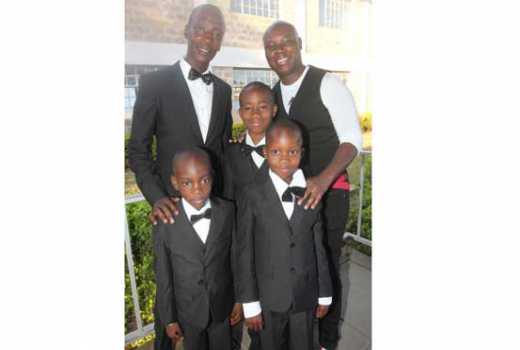 Pomp and colour at awards ceremony as academy recognises talent.
Moi Educational Centre Soccer Academy held an awards gala at the weekend to recognise and reward its players as well as celebrate 2017 achievements.
Players who excelled in their respective age categories were feted for their outstanding performances.
The Under-7 team that won the annual Chipukizi tournament held in Arusha, Tanzania, in December last year highlighted the evening.
The future football stars overcame opponents from hosts Tanzania, Uganda, Zanzibar and Rwanda to be crowned champions. Danielle Chiwo the only girl in the academy was the centre of attraction as she was recognised for her talent, courage and discipline.
Chiwo was instrumental in the Under-7 Chipukizi campaign and scored three goals in the tournament.
From humble beginnings in 2011, the academy has grown in leaps and bounds and has even attracted interest from European clubs.
Upcoming footballers
Their visit to UK last year was a huge success as the players went through world class training with top English Premier League (EPL) clubs.
While English football enjoys a huge following in the country, for most upcoming footballers and EPL enthusiasts going to Anfield, Etihad Stadium and Old Trafford is the stuff of dreams.
However for the academy players, 2017 is the year they will never forget as they got an opportunity to train at top EPL clubs Liverpool, Manchester City and Manchester United as well as Bolton Wanderers.
At Bolton Wanderers, Abubakar Mohamed, Noel Kazungu, Kipapi Kipino, Alvin Musembi and Millan Kasiyula caught the eyes of the coaches who are currently following their progress.
Abubakar impressed the most and the coaches are keen on signing him in the club's academy.
The school's acting Principal Joseph Thuku said their aim was to make the academy a hub for both local and international scouts.
"The academy is growing in line with our vision to make it a talent hub for international scouts. We started off with less than 20 children and almost went down in 2012 but worked hard to remain afloat and I'm happy with the academy's achievements this far," said Thuku.
He added that they were looking forward to seeing their players compete in more challenging tournaments. In addition to defending the Under-7 Chipukizi title, they will also be out to reclaim the Under-9 won in 2016 crown and also seek to win the Under-11 and 13 gongs.
They also have the Rausha Kipaji East Africa Championship set for April 20-23 at Nakuru Athletics Club lined up. The players are under the tutelage of Moses Mbeda, Leonard Odipo, Kelvin Koech, Nigel Ouko and Felix Katitu. Former Harambee Stars' Coach Jacob 'Ghost' Mulee and Musa Otieno also regularly visit the academy to impart knowledge on the players.