TYSA partners with KUSA for education, sports and life skills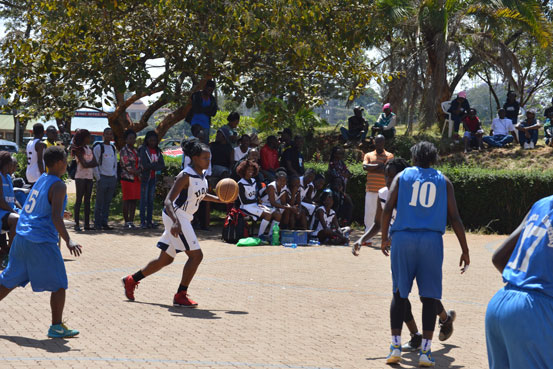 Transforming Young Stars of Africa (TYSA) has partnered with Kenya Universities Sports Association (KUSA) for a four-day inter universities sports competition that was held at Dedan Kimathi University in Nyeri County.
"We believe in the dynamic power of value based sports for self-discovery and advancement. Our main focus is on education, young leadership and innovation with a lot of models around sports. Partnering with Kenyan colleges will give us that platform to spread our gospel," emphasized acting CEO TYSA, 26 year old Anthony Gitei who also added that without life skills most individuals tend to lose a sense of purpose.
KUSA chairman Mbaabu Mureithi and University of Nairobi games tutor Rose Marete agreed that by merging education and sports, Kenya has a high chance of developing citizens and not dissidents.
"Our main objective is to bring KUSA affiliated colleges together once every two years through sports. A healthy body will conclude a healthy mind which is receptive to studies. According to research, sportsmen and women in schools make great scholars," argued Mbaabu Mureithi.
The KUSA chairman also insisted that the ministry of education should make sports compulsory and not optional in all educational institutions and urged parents to send out their young ones out to play more while still at a tender age and participate in sports.
"Our government and heads on institutions should invest more in sports in terms of infrastructure. With such organizations such as TYSA coming on board too, we hope to develop our students into responsible citizens not just now, but also in future. With proper sporting infrastructures such us equipment, coaching, fields among many others and the introduction of life skills through education and sports, we hope to alleviate societal vices such as drug abuse among many other criminal activities in our educational institutions," added games tutor Rose Marete from university of Nairobi.
The Kenya University Sports Association competition which started on Sunday 17th attracted over four thousand students and personnel from different institutions across the country. Among the many sports that were competed in for both men and women categories were swimming, football, basketball, darts, chess, hockey, taekwondo, hand ball, table tennis, badminton and scrabble. Kenyatta University were the Overall winners.
As the curtains came to a close on Wednesday 20th in Nyeri, Dedan Kimathi University, the college students did not just benefit from the competitiveness of the games, but also gained a lot through the TYSA educational life skills, socialization and most importantly cohesion of society from different social backgrounds.