I will keep clean sheets for the late Vinny, vows Origi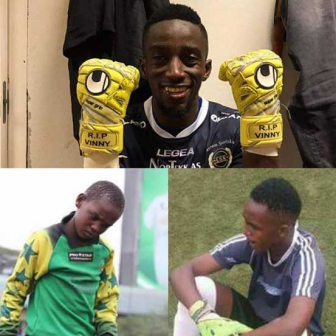 Kenya international goal keeper Arnold Otieno Origi honored his befallen compatriot Vincent 'vinny' Ochieng by keeping a clean sheet during a league match in the Eliteserien on Sunday, Norway.
The former Kenya number one used a pair of customized special yellow gloves at the Aaraasen Stadium dedicated to the late Hakati fc goal keeper who was his student during offseason holidays.
"He was a special lad. During my offseason holidays in Kenya, Vinny never missed a training session with me. He was always on time and very dedicated. I hoped to see his hard work pay off somewhere great, but unfortunately death has robbed us of a future talent," said the 33 year old experienced shot stopper who expressed his condolences to Hakati fc, friends and family at large right after his side SK Lillestrom won narrowly against Sogndal at home.
Origi customized his special yellow gloves after hearing of his 18 year old friend's death and had them written 'RIP vinny'. The former Mathare United fc and Tusker fc shot stopper, now with Norwegian side SK Lillestrom promised to 'win it for Vinny' and added that he hoped the gloves would inspire more young goal keepers to follow the spirit of the deceased.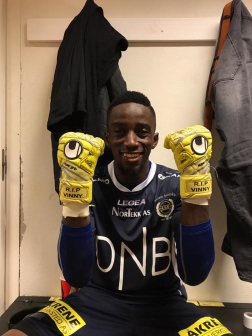 "He called right after his game on Sunday and was happy to have kept his promise of a clean sheet for Vinny. We had our second last game against Real Mathare fc at their grounds in Depot, Mathare and we won 3-0. Psychologically the boys were beat up, but small gestures like this from people like Arnold give us strength during these hard times," said Hakati fc head coach Stanley 'samco' Achima.
Arnold will send the pair of gloves to Kenya and donate them to Hakati fc. "YEEEEEEES Champ. 3 important points and a clean sheet for you champ. All Glory goes to our Father God Almighty. You can Rest In Peace now Champ but your memories will live on coz the gloves are heading down to Kenya to be used by your mates," Origi wrote on his facebook page.
Origi dedicated Sunday's game to the late Vinny after his side SK lillestrom won 1-0 against a resilient, visiting Sogndal fc. Frode Kipe brought the Aarasen stadium alive with his 89th minute last effort grasper after the Kenyan Origi had saved his side from the opponents numerous attempts to score. Origi celebrated the narrow win in front of a capacity 4,312 spectators when he raised high the yellow customized gloves that read 'RIP Vinny'.
Vinny's body will be available for viewing on Wednesday afternoon at the home of Hakati fc, Makadara Hamza grounds for a funeral service. May the good Lord rest his tender soul in peace, may he forgive him of his sins and above all may Vinny find favor before his eyes on his final journey. The late Vinny who died after colliding with an opponent during a friendly match will be buried on Friday 20th in his rural home, Kendu bay.