Polo: Samurai are 2017 Polo tournament champions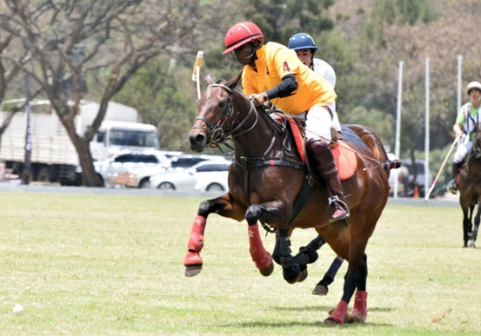 Nairobi Polo Club captain Rafael Nzomo steered Samurai to lift the 2017 Kenya International 12-Goal Polo Tournament at Jamhuri grounds in Nairobi yesterday.
Samurai edged R.J Polo 7.5-6 to win the Main Cup title with maximum six points. Samurai also beat Royal Salute 4.5-4 and Samsung 7.5-5 on their way to the round robin contest podium.
At the same time, Baringo Senator Gideon Moi guided Space & Style to a 6-4.5 win against Samsung Galaxy to lift the Subsidiary Cup.
Space & Style beat Ultimate 4-1.5 and Mombasa Island Cargo Terminal (MICT) with a similar margin on their way to the Subsidiary Cup final.
Moi, who thanked the horde of sponsors who came on board to support the two weeks tournament said: "The tournament was tough but fantastic. I am glad to have played against my son (Kigen) and won. I will be graduating to the senior category next season."
Craig Millar who notched a hatrick for Samurai against R.J Rojo bagged the Most Valuable Player award and was presented with the Fiesta Kipsigis trophy.
Nzomo's pony, Ruby, ridden by South African handicap five player Brad MacGibbon won the Best Playing Pony award.
The Main Cup contest pitting Samurai against R.J Rojo was physical as both sides put their best foot forward to win the game.
Samurai were out of touch in the opening chukka which was totally dominated by R.J Rojo who opened the score sheets with two quick goals from handicap three Richard Stonewigg and handicap 2.5 Tarquin Gross.
Samurai, who had started the game with a fraction, tried to level the score but their shots went wide. They ended the chukka without a goal.
Samurai were organized in the second chukka and their unity realized an immediate goal through Archie Voorspuy who converted a penalty. South African handicap five player, Guy Watson pulled a goal for R.J Rojo but this was overshadowed when Millar converted two other penalties to give Samurai a 3.5-3 lead at the end of the chukka.
Samurai were fast and furious in the third chukka which they realized two goals scored by Millar who slotted a penalty and MacGibbon who found the opponents backline on a solo move made from the center of the pitch. Stonewigg pulled a goal for R.J Rojo who trailed Samurai 5.5-4 at the end of the period.
R.J Rojo scored two quick goals through Watson and Stonewigg on resumption for the fourth chukka to give them an early lead in the period but this was short lived after their goals were cancelled by Nzomo and Voorspuy who both notched a screamer to give Samurai's a 7.5-6 win. [Erick Ochieng']
Our mediocrity cost us CHAN 2018 hosting rights
There is never a dull moment in Kenya's sporting scene and this month has not been an exception, only worse because that is how things sport in Kenya are. For a better part of the month, Harambee Starlets have been playing in the COSAFA tourney, and for a moment, Kenyans who have been keen on the progress of the young ladies thought that they will bring home the trophy.