Sandstorm switch off Samsung: Polo McCorkwell notches six goals in impressive win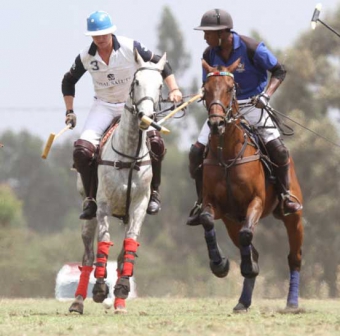 Polo tournament action hosted at Nairobi Club.
Sandstorm humbled Samsung S7 10-2 at the ongoing Nairobi Polo Tournament hosted by Nairobi Polo Club at Jamhuri grounds.
Sandstorm were led into the battle on Friday for the prestigious Lord Cranworth Trophy by George McCorkwell who notched six of the ten goals for the winners in the one-sided encounter.
McCorkwell, the highest seeded player in the encounter at handicap 2.5, was the sole scorer in the match's opening chukka with a hat-trick after he combined well with Dominic Grammaticas, Omwakwe Arungah and Nicola Jen Sen.
Samsung S7 pulled a goal through handicap 0.5 Davin Shreta on resumption for the second chukka, but were unable to neither maintain the lead nor defend their porous backline which permitted Sandstorm to reply with four more goals; a brace each from McCorkwell and Arungah.
The third chukka was relatively a balanced affair even though Sandstorm managed to rake in two goals through McCorkwell and Arungah as Stutti Millar pulling a goal for the losers just before the whistle.
The other game in the category, that pitted Samsung Note against Mombasa Island Cargo Terminal (MICT), was a closely contested affair even though Samsung Note registered a 6-4 win.
The two sides had a tough duel in the first period which Samsung Note won with a slim 1-0 margin following a Rowena Stichbury screamer.
Sammy Kiarie leveled the scores at 1-1 for MICT in the second period. This again, was the only goal scored in the see-saw chukka.
MICT captain Martin Keiser took matters in his own hand to deliver a brace for his side in the third chukka as Jonathan Stichbury pulled one back for Samsung Note.
MICT failed to maintain the 3-2 lead in the last chukka which they played badly, gifting the opponents four goals.
Kiarie scored a goal for MICT in this period but this was replied by Eugene Yumbya, Henry Limb (brace) and Stichbury to propel Samsung Note to a 6-4 win. "Despite MICT and Samsung S7 going down, the Lord Cranworth Cup category is still very much open and any side among the four has a chance to carry the day as curtains come down on the tournament on Sunday," NPC Public Relations Manager Chiru Nyaga said.
NPC captain Raphael Nzomo was hopeful that he would lead his Samsung Curve side to ultimate victory against Royal Salute in the today's Horseman Trophy final.