The chase is on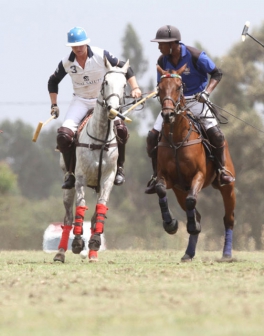 The exciting polo season is back today at Jamhuri grounds.
Nairobi Polo Club will, for the next three days, host the coveted Nairobi tournament beginning today at the venue.
The tournament, which is sponsored by Samsung and Royal Salute, will feature contests in two categories; the Lord Cranworth Cup and Horseman Trophy.
There will be 64 players from eight teams doing battle in the two categories. The top-ranked sides are Manyatta Polo Club of Gilgil and Samsung, which is composed of players from North Kenya and Nairobi.
Samsung is led by Nairobi Polo Club captain Raphael Nzomo, who will be assisted by his club chairman Phillip Arungah and Lady Tiva Gross of North Kenya. They have vowed to emerge winners and enjoy the bragging rights.
"We are glad and excited with the return of polo to Nairobi. We are ready to begin the season in style. We have prepared well for the tournament. That should definitely give us victory in the end,"Nzomo said.
Nzomo said the two fields, which will host the tournament, are in good shape and are in the best condition.
He added that today's contests are expected to be fast in all divisions as the horses are fit and players are ready to go.
The Manyatta Polo Club of Gilgil boasts the highest senior ranked player in the tournament in Craig Millar at handicap 3.0, followed by teammate Tarquin Gross at handicap 2.5.
Millar said he is ready to lead his side to the season-opener. His team also has Mbugua Ngugi, Philou Salle and Kimoi Moi.
These are the players tasked with leading Manyatta to victory.
Other than Manyatta Polo Club and Samsung, other formidable teams that will surely offer stiff challenge to the favourites are Royal Salute, Sandstorm and MITC. The sides are capable of pulling an upset as has been with other previous seasons.
While explaining the tournament's format, Nairobi Polo Club Public Relations Manager, Chiru Nyaga said,
"The Senior Horseman Trophy will be contested by two teams for three days."
"The Intermediate Lord Cranworth Cup will be a four-team event and the Most Valuable Player from this event will win the coveted Johnny Camm Trophy.
"Two teams will play the Junior Trophy, which is the Red-bull Cup."