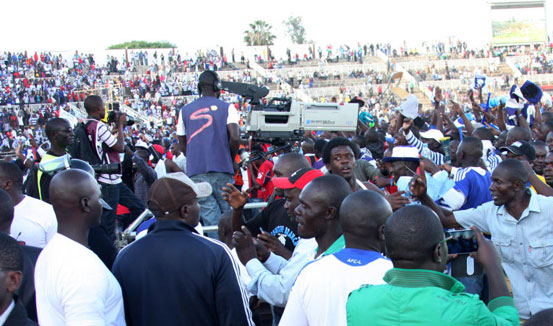 South Africa-based pay television giant SuperSport's decision to pull the plug on airing Kenyan and Nigerian premier leagues over 'breach of contract' within three weeks of each other this month is the steep price footballing bodies have had to pay for failing to meet their marketing obligations.
The stunning but not entirely unexpected decision to wind down operations in Kenyan and Nigeria has thrown a cat among the pigeons as far as the future of domestic club football is concerned.
SEE ALSO: Arsenal forward Martinelli signs new long-term deal
Basically, SuperSport could no longer shoulder the burden of being the biggest investor in the Kenyan Premier League (KPL) and Nigerian Professional Football League (NPFL) yet their desired aim when they came in was to offer a window for the said bodies to rake in more finances along the lines of the successful English Premier League.
By giving the Kenyan and Nigerian leagues (international) exposure, SuperSport banked on the KPL and League Management Company (LMC) of Nigeria to attract other entities who could advertise on the channel to enable it to recoup the huge investment. But this was not forthcoming.
SEE ALSO: All COVID-19 tests in Formula One have been negative
"You warranted to us contractually, that KPL is the only body recognised by Fifa to run, administer, and be responsible for the administration of professional club football in Kenya, which warranty is directly contradicted by the relevant SDT ruling and the views of Fifa," SuperSport's legal advisor, Philip Seleke, told the KPL on April 7 when announcing the withdrawal.
On Thursday, the same fate befell the NPFL with communication from the company noting; "The LMC infringed on some of the rights signed in the contract agreement and that necessitated the decision."
SEE ALSO: KRU in hunt for Shujaa coach
Last year, SuperSport also severed ties with the Ghanaian Premier League when their contract expired in November with the competition entering a fresh agreement with StarTimes, one of the broadcasters reported to be eying the KPL.
Kwese Sport that is making waves in the Kenyan market with their free-to-air decoders, Tanzanian firm Azam and local start-up Bamba TV are the other outlets said to be keen on bringing the KPL on board.
While losing leagues in Ghana, Kenya and now Nigeria could be seen on the surface as being detrimental to SuperSport's image as the biggest name in broadcasting sports in Africa, the success story of the MTN/FAZ Premier League in Zambia represents what can be achieved with prudent marketing by companies charged with running the leagues.
Following their exit, SuperSport has ferried its three Outside Broadcasting vans to Zambia while their Sh500 million studios along Ngong Road, which were opened by President Uhuru Kenyatta in 2013, will be leased out.
Plagued by low numbers in stadiums across the country, the constant bickering between Football Kenya Federation (FKF) and KPL and for the 2017 season, a bloated 18-team competition that has failed to address the quality of domestic club football, it is a miracle SuperSport stayed for a decade before closing shop.
Over and above that, a static Government that failed to put measures in place to safeguard the heavy investment by SuperSport despite the firm's concerted efforts to keenly engage them in their operations (inviting the Head of State to open its studios as an example) also hastened its decisions to close shop in Kenya.
It remains to be seen whether broadcasters who are reported to be interested KPL so as to gain foothold in the local market can sustain their investment under the prevailing business environment.
Some industry insiders maintain SuperSport's move to pull the plug on KPL and NPFL broadcasts boils down to the prevailing harsh economic times and technological advancements in both countries.
It is well known that SuperSport, through their local subsidiary MultiChoice Kenya has seen subscription numbers on their DSTV decoders and those of their budget offering GOTV, plummet over the past three years.
This comes in the face of fast and reliable internet connections that has made it possible for most of their consumers to stream live matches at rock bottom prices.
Coupled with a KPL that fared poorly in marketing, the competition to attract more companies outside East Africa Breweries Limited through their Tusker brand and gaming firm SportPesa as title sponsors, the writing was on the wall.
The road that led to the April 7 exit started during the 2016 season when Local Productions Kenya Limited — the company formed to handle all production aspects of SuperSport and DSTV in Kenya -- scaled down some of its content around the domestic league and killed shows such as Club Safari that explored the inside stories of KPL outfits.
The cut backs affected the budget for other flagship shows that have now gone off-air, including Simba Super Soccer, Mchakamchaka, PlayBack, Off The Press, Project 254 and East Africa Sports Line.
The most popular narrative is about 200 employees of LPKL will be laid off following the decision because the KPL accounted for 95 percent of the people engaged by the company.
They include producers, floor managers, directors, camera persons, football analysts, sound engineers, lighting experts and riggers besides support staff such as drivers, crew managers and make-up artistes.
"It took 35 people to air a live game at an estimated cost of Sh2.5million or more if it is outside Nairobi. These included travel, accommodation, hospitality, security and logistics for the crew and equipment.
"To air a show, some 30 people were engaged for field and studio production besides the post-production process," a company official told Standard Sports. Before the advent of SuperSport, sports journalists in Kenya had virtually no platform to reach a wider audience.
From the commentary booth to its shows, SuperSport showcased sports journalists in their glory as the stars of the show who were handsomely compensated for their services.
It gave sports journalists a window to market their competence and it was important in unveiling to a new generation vital statistics on local players and games that were hitherto unavailable.
There is no gainsaying that the domino (adverse) effect of the pullout that has sadly been celebrated in some quarters of local media, especially by those who did not find a seat in the so-called SuperSport 'gravy train' will be felt in the industry for years to come.