Yego plots to defend world title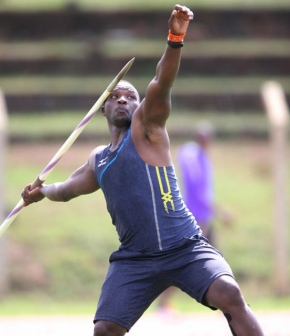 World javelin champion Julius Yego says he has intensified his training ahead of 2017 IAAF World Championship in London.
He says his current schedule involves rectifying the mistakes he had ahead of 2016 Rio Olympics which saw him settle for silver.
"I had a few mistakes that led to my injury before the Olympics and I don't want a repeat in London. It is the reason I am intensifying my training as I focus on London," Yego said at Kasarani Stadium yesterday.
Yego said he will use part of the Diamond League series which begins in May to gauge his training.
"I am waiting for my manager to send me the full schedule so I can know which legs of the series I will attend."
He also stated that he might consider high profile training in South Africa as he did last year for the Olympics.
"My mission is to successfully defend the world title and this is what I am concentrating on this year," Yego said.
Yesterday, Yego also receive Sh2million worth of field equipment on behalf of Team Kenya that is stepping up training ahead of IAAF World U-18 Championships to be held in Nairobi in July.
He said the equipment bought by the Local Organising Committee (LOC) for the championships is a bonus to Team Kenya as they will motivate the team.
"Kenya has not been a great nation in field events but with these, we are now at par with world power houses including USA and the UK, I urge the athletes to be patient and keep their focus on training," Yego said.
The equipment ranged from javelin, shot put, hammer, discus, handles, pole vaults among others.
Team Kenya chairman Barnaba Korir said the equipment will be distributed in all 12 Team Kenya camps across the country.
Korir said the equipment will aid the athletes to improve their performance ahead of the first national trials for the World U-18 Championships, in April.
"We will conduct two trials for the event. The first one will be in April to whittle the squad in all the 12 camps before the final selection of Team Kenya in June," he said.
While welcoming the initiative to equip the national team, Athletics Kenya Vice President Paul Mutwii said the gesture will increase Kenya's chances of bagging more medals in the championships.
Mwangi Muthee, the LOC Chief Executive Officer said Germany has agreed to give Kenya coaches to train Team Kenya in field events.