FOCUS TURNS TO GANATRA: As multiple top drivers keen to feature in National Rally Raid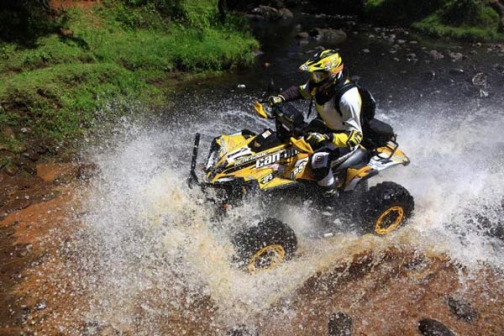 Multiple Kenya champions Ian Duncan and Carl 'Flash' Tundo will be the star attractions in this weekend's fourth round of the JCB Ganatra National Rally Raid Championship slated for Konza and Lukenya on Saturday and Sunday.
Tundo hopes to maintain his dogged campaign in search of a maiden Raid title this season in his new Milner R4 which has literally swept the ground with all his opponents. The car, on its third outing this weekend, runs on a rear mounted BMW M3 engine.
Duncan, Tundo, Geoff Mayes, and defending champion Gray Cullen are champing to renew their close fought rivalry in the car class.
In the absence of Shaun Miller, bikes champion Ross Field and Robbie Calder will be the drivers to watch in the piki class.
Six times champion Shazar Anwar is preparing his Can-Am 450xxc quad bike at their family garage in Kilimani.
"I'm looking forward to the event. It's going to be in new terrain that we have not tried before. I'm currently preparing the quad bike just to ensure its in good condition for the weekend. This should be an interesting event."
Rajesh Maini in the car class and biker Shaun Miller are the notable absentees this weekend.
Maini is nursing a back injury while Miller who is one of the top off road bikers is away due to personal commitments. Field will be there on his Husqvarna 350. 'A bit out of shape but I base my targets on Flash the legend.
It should be a good Raid with lots of point to point which will sort the men out from the boys. The second day has a repeat loop which will be fast and favour the cars! Gray, Flash, Ian and Robbie will be the guys to beat!" Field said.
In the car class, Mayes will once more be co-driven in his V8 rally raid machine by Naivasha based Suzanne Zwager.
"We have done a lot of work to the car since our podium finish on the Safari Rally in early June and we should be more competitive for the rest of the season!" Mayes said.
Kamusinga face off with Hanika in semis
National girls handball champions Moi Girls Kamusinga face off with Hanika of Rwanda in the semi-finals of the Brookside East Africa Secondary schools games at Eldoret Sports Club. In the second girls last four tie, home girls St Anne's Sega will clash with Uganda's Mbogo. The Kenyan girls are hopeful of securing an all-Kenyan final, which will guarantee the country a third regional gong.