GHANA BEAT KENYA: Harambee Sand Stars feel weight of experienced West African side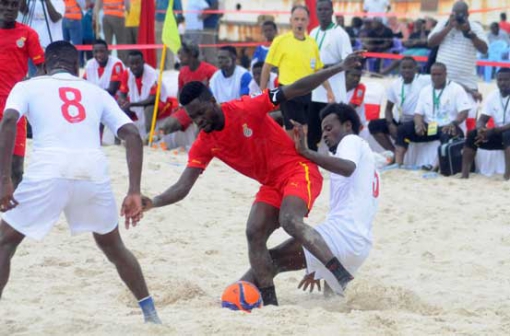 Harambee Sand Stars have been pushed to a tight corner after they failed to shine at home in the first leg of the Africa Cup beach soccer qualifier at Pirates beach in Mombasa.
The visitors led 2-1 in the first quarter before they took a 6-2 lead in the second quarter and wrapped up the match 10-3 after the final whistle.
The home boys did not impress at home and they have no alternative but to win the second leg with a bigger margin.
In yesterday's match Kenya was handed a 10-3 defeat and they need to work extra hard before the return leg on September 16 in Accra, Ghana.
Richard Rosa and Alfred Kwame scored a hat trick each and Hussein Mohammed and Michael Selma scored three goals between them. Farid Mbwana scored an own goal.
The Kenyan goals were all scored by Modi Hassan.
It was clear that, with proper preparations, Kenya is destined greater heights in beach football.
Kenyan coach Rajabu Babu said his players panicked and did not click in all quarters but said they is a room for improvement.
"Ghana were not technically superior as initially thought and we shall re-organise ourselves before the return match," said Babu.
His Ghanaian counterpart Daniel Kotey said experience won the day.
"Kenya exhibited good beach football but they lacked the tactics. I can single out the scorer of the three goals Modi Hassan and goalkeeper Dido Manasse as good players among others," said Kotey," Kotey said.
He added that his focus is to beat Kenya in the return match and qualify for the Africa Cup championships in Nigeria in December.
Ghana is ranked seventh while Kenya occupy the 45th position in Africa.
Football Kenya Federation president Nick Mwendwa said it was a good start for Kenyan beach football.
"It's the time for FKF to get boys play competitive beach football but we are happy we have started from somewhere," Mwendwa said.
He reiterated that plans are at an advanced stage to start a beach football league.
Mwendwa handed over Sh 150,000 to be shared among the team, and said players need to learn rules governing the sport.
"We are going to start with conducting coaching and refereeing clinics to equip the technical bench and referees with new coaching tactics," he said.
CS Wario to seek support of associations
Under pressure Sports Cabinet Secretary Hassan Wario is rallying other federations behind him even as he seeks support over his move to disband the National Olympic Committee of Kenya.