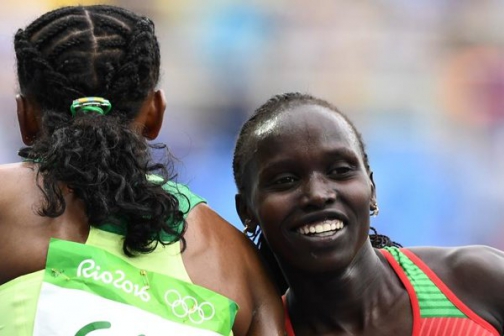 Vivian Cheruiyot wins silver as Kenya bags her first medal at the Rio Olympics. Ethiopian Almaz Ayana wins the women's 10000m final breaking the world record. Ethiopian Tirunesh Dibaba came in third.
Ethiopia's Almaz Ayana launched the Rio Olympics athletics on Friday by smashing the women's 10,000m world record as the Games reeled from doping scandals.
Chinese swimmer Chen Xinyi and Poland's 2012 Games champion weightlifter Adrian Zielinski failed tests while a Kenyan coach was sent home for reportedly pretending to be an athlete for a dope test.
Athletics takes centre stage in Rio also needing a lift after the Russia doping storm. And Ayana provided immediate excitement.
The 24-year-old pulled away from the field midway through the race and never let up before powering home in 29min 17.45sec.
Her winning time was nearly 14 seconds quicker than the previous world best of 29:31.78 set by Wang Junxia in Beijing in 1993.
Vivian Cheruiyot of Kenya took silver while defending champion Tirunesh Dibaba took bronze.
Olympic leaders' hopes of easing the doping storm were also dashed.
Zielinski failed a dope test along with Bulgarian runner Silvia Danekova and Chinese Chen.
Zielinski tested positive for the anabolic steroid nandrolone just three days after his brother Tomasz suffered the same fate.
The drug was detected as the 27-year-old was gearing up for the 94kg contest in Rio last Saturday, Poland's anti-doping agency said. His brother Tomasz, 25, was also registered before he was also revaled to have failed a test.
Damekova, a 3,000m steeplechase athlete, admitted she had tested positive for the blood booster EPO.
Chen Xinyi returned positive for hydrochlorothiazide, a diuretic, after Sunday's women's 100m butterfly final, in which she finished fourth, Chinese sports authorities said.
David Rudisha cruised into the semi-finals of the men's 800m in Rio after a Kenyan coach was sent home in disgrace after having tried to impersonate an athlete for a doping test.
Sprint coach John Anzrah offered a urine sample in place of 800m medal hope Ferguson Rotich, who competed in Friday's heats and duly qualified for Saturday's semi-finals.
Three athletics golds will be won on the first day of competition at the Olympic stadium. After the 10,000m, there was also the women's shot put and the 20km race walk.
British star Jessica Ennis-Hill made a smooth start to the defence of her heptathlon crown, landing an early psychological blow on rival Brianne Theisen-Eaton with an impressive 100m hurdles victory.
In blustery conditions, Ennis-Hill, 30, produced a blemish-free performance to win her race in 12.84sec, as she bids to become only the third woman to retain an Olympic athletics title after giving birth.