Kenya's Olympics starts today as Vivian leads two other stars in gold chase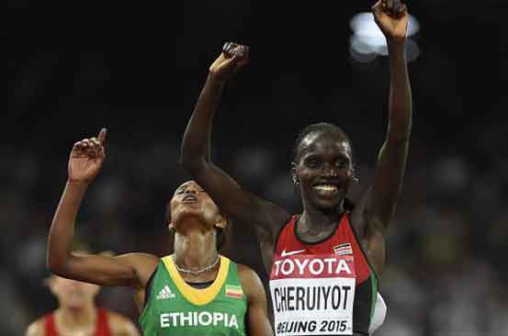 At exactly 5:10pm today, Kenya's three women line-up at Maracana in Rio de Janeiro, Brazil, hoping to kill two birds with one stone.
They will be keen to strike Kenya's maiden Olympic women 10,000m gold medal and fulfill their lifetime dreams in athletics.
And among the fans who will be watching them carry the hopes of a nation will be Deputy President William Ruto, who was expected to land in Brazil yesterday.
World 10,000m champion Vivian Cheruiyot, US-based Betsy Saina and Alice Aprot, the Africa 10,000m champion, share a cocktail of similarities; the trio overcame hardships as they honed their athletics talent at an early age and, interestingly, all are lovers of traditional vegetables and ugali.
Determined as they have been, the three stars seem to borrow in the counsel of American author Les Brown: "Shoot for the moon. Even if you miss it, you will still land among the stars."
The three have vowed to signal each other with the Kalenjin word 'Ngebe' (let's break away) in their bid to counter opposition this evening.
For Vivian, she started running as a Standard Four pupil at Chemwabul Primary School in Keiyo South.
She only knew a few stars from the area that included 1997 world cross-country junior champion Rose Kosgei and Edna Kiplagat, then a bronze medallist in 5,000m in 1996 world junior championships in Sydney, Australia.
And, interestingly, she has competed against them on the tracks.
Vivian was born on September 11, 1983. The third-born in a family of eight started to train in athletics while herding the family's goats at the nearby Kaptagat Forest, and trekking to their ancestral farmlands in Kerio Valley.
She first shot to the limelight when she made the Keiyo District Primary Schools squad in 1996.
She went on to produce good shows in 5,000m and 10,000m when she joined Sing'ore Girls Secondary School, in Keiyo North.
At the age of 14, she pulled a surprise when she won the national cross-country championship in 1997. However, being underage, she was barred from joining Team Kenya.
"I love athletics only. I have no other sport in sight... I like watching wild animals and above all, serving at the Kenya Police," she said.
Alice, the younger sister of 2010 world cross-country champion Joseph Ebuya, also loves athletics only. She dropped out of Munyaka Secondary School near Nyahururu over lack of school fees to concentrate on athletics.
"In 2010, I made the team to World Junior Championships in Moncton, Canada, where I won bronze. I got some cash reward from the Government, which helped me pay my school fees in Form One and Form Two," said Alice, a glowing alumni of Losokwo Primary School in Nyahururu.
Asked about the support from his illustrious elder brother, Mr Ebuya, Alice said: "You know, you can't bank on someone's support. You must have yours."
Since relocating to Eldoret to practice athletics, the results have been amazing.
She has Africa cross country 8km bronze and gold (Kampala, 2014 and Cameroon, 2016) respectively, 2015 All Africa Games 5,000m (bronze) and 10,000m (gold) and Africa 10,000mgold she won in a championship record last June.
Ms Saina has a different script. She, too, has soft spot for athletics and unbridled love for volleyball. The 28-year-old Saina played volleyball while a student at Itigo Girls High School.
"I loved volleyball and athletics. But I had to put more effort on athletics since I wanted to get a track scholarship to USA," said Saina, a graduate nurse from Iowa State University.