Germany 0-0 Poland: Five things learned
SPORTS By Mirror | June 17th 2016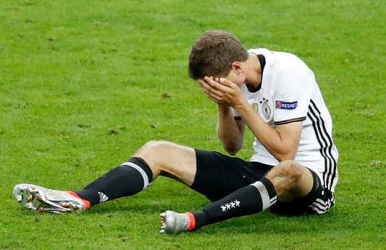 Group C remains in the balance after Germany and Poland played out a goalless draw in Paris.
Arkadiusz Milik missed two good chances for the Poles, who are locked with the Germans on four points heading into the final game.
Both countries are guaranteed to qualify for the knockout stages if they avoid defeat next week.
However, Joachim Low will be disappointed his world champions didn't threaten more during the stalemate at Stade de France.
Here's five things we learned:
1. Low putting his coat on Hummels
After Shkodran Mustafi's performance in the opening win over Ukraine, it would have been easy for Jogi Low to stick with the Valencia defender alongside Jerome Boateng, rather than immediately bring back Mats Hummels.
Injury concerns have seen the soon-to-be Bayern Munich defender become something of a worry in the Germany camp, while Low has never been overly trusting of the cultured defender.
Take a quick survey and help us improve our website
Take a survey
When captain Bastian Schweinsteiger has been absent, Low has never handed Hummels with the captain's armband for Die Mannschaft. Sami Khedira, Manuel Neuer and Thomas Muller are all in front in the pecking order in that regard, despite Hummels having been Borussia Dortmund captain in the last two years.
But Low does see Hummels as indispensable to his side and how he wants them to play - even if he isn't fully fit. He showed as much by returning him into his XI at the first available opportunity tonight, despite the centre-half looking short of practice and decidedly rusty.
2. Kroos personality makes him Germany's leader
When Bayern Munich decided to allow Toni Kroos to leave for Real Madrid in 2014, they did so believing that he was not worth what he thought.
Kroos had one year remaining on his deal in Bavaria and Pep Guardiola insisted to the Bayern board that he should be given a new deal.
But the Bavarian hierarchy decided that Kroos - something of an outsider, from Rostock - wasn't one of their own, that he was cold and aloof, lacked the character of a Bastian Schweinsteiger (Munich born and raised) and that he didn't deserve the wage packet he was asking for.
It's not often Bayern get such decisions wrong (see the decision to part with Schweini last summer) but parting with Kroos is certainly one such occasion.
He may not wear the armband, but there's no question that he's the technical leader in this Germany side, the man who instigates each and every move with unerring accuracy from the base of midfield.
Never rushed, no touch is wasted, no off-the-ball run turned down because he didn't see it. Pass after pass after pass, hardly ever backwards, over five yards or 50. He takes the ball whether in space or under pressure, and, quite simply, makes his side, the world champions, better. As Germany looked to break down stubborn Polish resistance, increasingly Kroos was the man Germany looked for to make things happen.
3. Poland's strong core can take them places
Ahead of the tournament Poland were tipped by some as potential outsiders for the competition.
And 12 years on from perhaps the greatest defensive tournament team ever - Greece 2004 - Adam Nawalka's side show that it's going to take some effort to dump them out of this tournament.
In Robert Lewandowski and Arkadiusz Milik they have two talented strikers.
But this is a side well drilled, organised by an intelligent coach and unwilling to give opponents an inch.
Built on the base of monstrous centre-back duo Michal Pazdan and Kamil Glik, led by the midfield duo of Grzegorz Krychowiak and Krzysztof Maczynski, they are resolute and give absolutely nothing away.
It took 136 minutes before they faced a shot on their goal in this competition.
That resistance will give them every hope of going deep into the knockout rounds.
4. Gotze continues to struggle
Since his glorious World Cup winner two years ago, Mario Gotze has seen his career hit something of a dead end.
His move to Bayern has turned sour - they're more than eager to sell this summer - and as prodigiously talented as the 24-year-old is, he simply no longer looks to be enjoying his football, whether playing for club or country. The boyish grin from his Dortmund days has long since departed.
Yet Jogi Low remains one of his biggest fans. And he continues to keep faith in his young forward.
But again Gotze struggled in Paris, failing to link with Mesut Ozil and, as against Ukraine in the opening game, failing to make a genuine impact.
Calls for Mario Gomez, or even Andre Schurrle - who again replaced him here - will only grow, unless he finds his best.
Unfortunately, the chance of that happening at this tournament looks slim.
5. He's a talent, but Milik fluffs his lines
A lot has been said about Ajax striker Arkadiusz Milik after his excellent season with the Dutch club.
And even more has been said in the days since his winner against Northern Ireland at the weekend.
It's little wonder that Leicester City (with their excellent scouting network) are one of numerous clubs around Europe keen on the 22-year-old.
He's a stealthy mover, always finding space between the lines, links play intelligently, has a clever eye for a pass and doesn't lack pace.
But after such a composed finish in the opener, he twice fluffed his lines in the high pressure atmosphere at the Stade de France - both times appearing to take his eye off the ball.
It's one thing to score regularly in the Eredivisie or in European qualifiers against the likes of Gibraltar, but doing it when it's most important is completely different.
Until he proves capable of precisely that, questions of whether he's an Afonso Alves or a Patrick Kluivert will be asked.