Gohil maintains cool to lift Nairobi Open chess title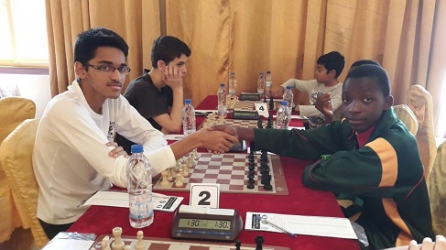 Mehul Gohil won the second edition of the Nairobi Open International Chess tournament at Makini School.
Gohil drew just one match to collect 5.5 points and beat a strong field that included top Ugandan stars.
The two-day tournament attracted players from eight countries including hosts Kenya, Slovenia, South Sudan, Tanzania, Uganda, Somalia, Zambia and Eritrea.
Githinji Hinga finished second with 5.5 points and shared the Sh75,000 prize money with Gohil. South Sudanese Panchol Madol was third.
In the ladies' section, Slovenian WFM Mihevc Mohr Narcisa won after collecting 5.5 points. She was followed by former champion WFM Ivy Amoko from Uganda, who had five points. Another Ugandan new comer Ampaire Shakira finished third.
In the junior category, Gilliane Otieno from Makini School won girls' under-12 category after collecting four points out of a possible six. Otieno won the tournament last year and is also the current under-12 national champion.
Tracy Mboya from Shepherds Junior won girls' under-14 category, while Raisa Wanjiku finished second in the same category.
Anish Sukumar won the boys' under-14 title, while Reeyan Gosrani won in the under-10 category.
The junior winners received trophies and shopping vouchers. Before to the two-day tournament, a total of 20 players and former players attended FIDE organised Training seminar.
The seminar was conducted by Grand Master (GM) Georg Mohr from Slovenia. Kibra Member of Parliament Ken Okoth was the chief guest at the closing ceremony and in his remarks, urged Chess Kenya officials to work together.
According to Okoth, only a united association will be able to attract sponsors.
"There has been a lot of division in the Chess fraternity and this is not good because it will not attract any sponsors. You must seek to work together to promote this sport," he said.
Nairobi Chess Academy Club Chief Executive Steve Ouma promised to organise a bigger and better tournament next year.
"We have always raised the bar with this tournament and we hope to make it even bigger and better in future events," he said