Shaky Shujaa lose to South Africa at Rugby Africa Solidarity 7s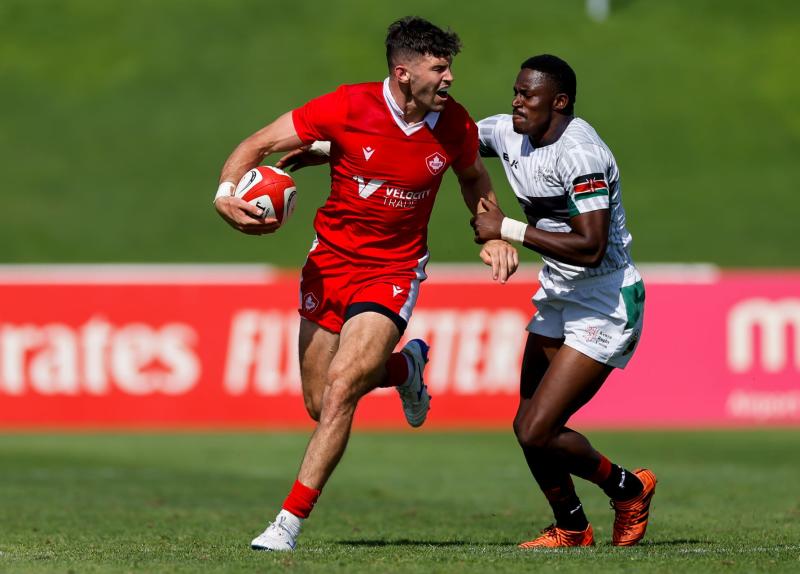 Kenya Sevens on Saturday afternoon lost their second match at the Rugby Africa Solidarity 7s after going down 27-14 to The Blitzboks in a tight match played in Stellenbosch in South Africa.
Playing as South Africa 1, the hosts overpowered Kenya 15-7 after drilling in three unconverted tries against the East Africans one try.
In the final half, South Africa sealed the win with two more tries and a late surge by Kenya could not do any harm to the scoreline.
Harold Anduvate and Nelson Oyoo scored Shujaa's only tries in the game. Kenya will play their final match of the day against South Africa 2 at 2.50PM East African Time.
Earlier on, Kenya thrashed Zimbabwe 24-0 to register a winning start at the Rugby Africa Solidarity event.
Shujaa drilled in four tries, two in each half to join South Africa atop the standings of the round-robin group with three points. South Africa had defeated Uganda 26-7 in the opening match of the event.
Kenya started on a high note with Billy Odhiambo and Jacob Ojee exchanging hands and quick feet trying to penetrate the Zimbabwean defense which proved tricky for the opening three minutes of the match.
A series of ball-handling mistakes by Kenya enabled Zimbabwe to threaten for the most of the first half but each time they attempted a break Shujaa defended well to prevent going behind.
Shujaa however struck first after Jacob Ojee beat his two markers deep in Kenya's territory, racing past the Zimbabwean defense to score a try that Tony Omondi converted.
Billy Odhiambo would release Derrick Keyoga with a well-taken kick up the right-wing of the field with Keyoga proceeding to kick his way to the try line twice before touching down for Kenya's second try to take a 14-0 lead at the break.
In the second, Alvin Otieno crossed over on the left to stretch the lead to 19-0 after a missed conversion before Tony Omondi sealed the victory with another corner post try off a scrum.
Kenya will face South Africa 1 in the second match set for 12:30 PM.
Elsewhere, South Africa 1 came from behind to beat Uganda 26-7 in the first match of the competition.
South Africa 7s Results and Schedule
South Africa 1 26-7 Uganda
Kenya 7s 24-0 Zimbabwe
South Africa 2 0-40 SAS 7s
12:30 South Africa 1 V Kenya 7s
12:50 Uganda V South Africa 2
13:10 Zimbabwe V SAS 7s
2:50 Kenya V South Africa 2
3:10 Uganda V SAS 7s
3:30 South Africa 1 V Zimbabwe