Rugby: Poor Shujaa go down to Australia in Seville Sevens opener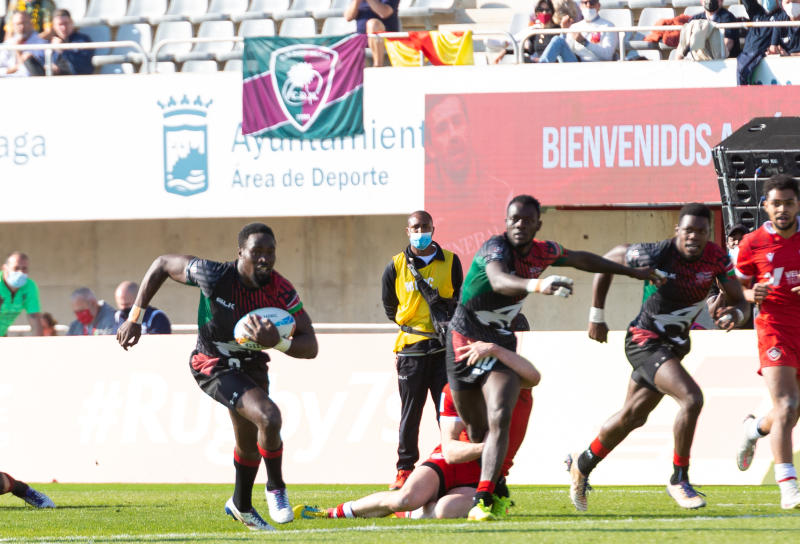 Kenya Sevens lost 42-0 to Australia on Friday evening as they kicked of the Seville Sevens with a defeat at Estadio la Cartuja in Spain.
Shujaa failed to score any try in the match as the Aussies dominated the play scoring six tries, three in each half to go top of Group D ahead of day two of the competition. Other teams in the group include Canada and Scotland.
Kenya, who had a dismal performance at the Malaga Sevens last week where they won once in the five matches played, were hoping to redeem themselves at the Seville leg but were given a reality check.
In the match, Henry Hutchison gave Australia a 7-0 lead after evading both Herman Humwa and Vincent Onyala to score between the posts.
Moments later, Hutchison returned to haunt Kenya again after drawing in his markers and the racing to the white wash for his second try that was converted for 14-0 lead.
Off a scrum, Maurice Longbottom sliced through Kenya's shaky defence to score the third try of the match that was converted to hand the Aussies a comfortable 21-0 halftime lead.
In the final half, Corey Toole picked a brace as Yool Yool sealed the victory with a converted try.
Innocent Simiyu's boys will be aiming to bounce back to winning ways against Canada on Saturday (10.45am) before taking on Scotland at 4.30pm.
Kenya must win the two encounters if they are to qualify for the Main Cup quarterfinals.
Seville Sevens
Friday's Results
Kenya 0-42 Australia
Saturday's Fixtures
Kenya v Canada- 10.45am
Kenya v Scotland-4.30pm