Clubs beef up squad ahead of Saturday Kenya Cup kick off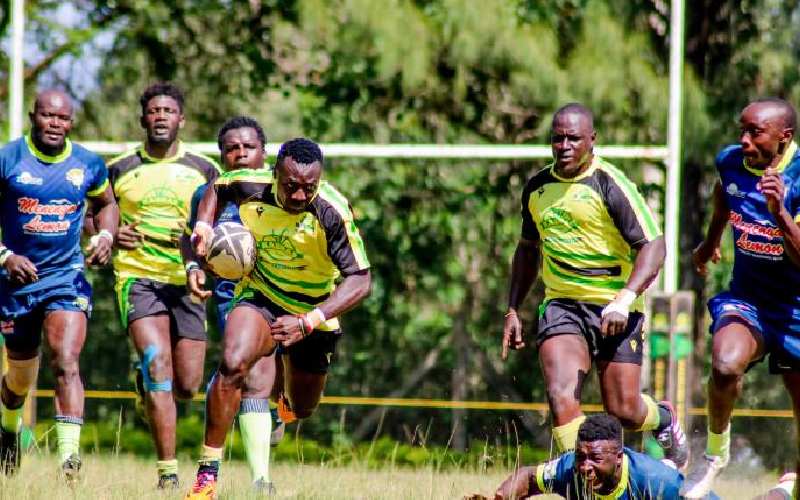 The 2021-2022 Kenya Cup season kicks off on Saturday with six matches set to be played across the country.
All guns will be traded on dominant defending champions KCB Rugby Club who have won the finals four times in a row.
To do that, clubs have gone on a massive signing spree in an attempt to strengthen their squads with quality players ahead of the season which will again be played on a one-off, round robin basis with the top four teams qualifying for the semi-final playoffs with the final slated for March 5.
In addition to that, it will also be the first time KRU is hosting the women's league featuring six teams; Mwamba, Nakuru, Ruckit, Yamanashi Impala Saracens, Homeboyz and Northern Suburbs.
Standard Sports takes you through the new signings of the Kenya Cup clubs as follows;
1 Kabras Sugar-Last season's Runners Up
The sugar men confirmed three new additions to the squad including Steve Sakari Sikuta from Mwamba and utility back Vuyo Mbotho from South Africa. In the management department, Kabras have also roped in Carlos Katywa from South Africa in the forwards coaching role.
Sakari is currently out with the Kenya Simbas on international duties while Mbotho is expected to join the Kabras backs lists ahead of this weekend's kick off against Kenyatta University's Blak Blad at Kakamega Showground.
Mbotho is expected to be part of the midfield department where he will fill the gap left by the injured centre Bryceson Agesa.
Mbotho, 33, was roped in from Border Bulldogs, a rugby club playing in South African league Currie Cup. He has also featured for Griffons and SWD Eagles where he made over 150 appearances.
In the management department, Kabras have also roped in Carlos Katywa from South Africa in the forwards coaching role.
Katywa has worked with the side for the past few weeks in preparation for the new season replacing Dominique Habimana.
2. MMUST-second season in Kenya Cup
MMUST has beefed up their team with over six young players including Culeb Owino, Davvid Bunduki, Kelly Akengo, Byron Odongo, John Biden and Ngaira Renhard among others.
"We believe in youths and that is why we are investing more on young bloods. The young players have energy and speed that we will need knowing very well to be successful in the Kenya Cup you will need more than physical and contact plays," said assistant coach John Asila.
3. Oilers
Oilers beefed up their squad with seven new signings ahead of the new season.
The Nakuru club raided Homeboyz and signed forward Stanley Isogol and lock Wallace Onyango. They also brought in Lock Brian Sinei from Nondies.
Albert Obura returns to Oilers after long time out as Destirious Ifedha joins the side from Bungoma High School.
Former Quins back Peter Misango and centre John Okoth have also completed moves to the club.
4. Strathmore Leos
Forwards Jacob Owaa and Owade Obungu signed with Leos from Homeboyz RFC and Impala Saracens respectively as Nyaienya Moseti crossed over from Nondies.
Festus Shasia from Mean Machine remains with Leos too after a successful loan last season as the club also roped in Kenya Under 20 duo Shem Okola and Tony Amoyah, Collins Maina, Patrick Kluivert, Alton Chasia all from Northern Suburbs.
Another move also sees Tony Okello joining Leos from Catholic Monks alongside Stanislaus Shikoli and Raymond Chacha from Utumishi Academy and Denis Mbilah from Mang'u.
5. Kenyatta University-Blak Blad
Blak Blad signed Kenya Cup champion Marlin Mukolwe from KCB Rugby.
Mukolwe will link up with former Kabras Sugar fullback Andrew Gathuawho has also joined the club.
6 Nakuru
Nakuru RFC, one of the busiest sides has signed nine new players.
Centre Emman Okwako and backrower Rodgers Audi have joined the side from rivals Menengai Oilers.
Leon Nyang' of Egerton Wasps alongside Robert Awich and Bradford Khalumi from Western Bulls have also joined the club.
Homeboyz's John Ochar, Emmanuel Wabwile from Bungoma High and Wycliffe Odhiambo are also part of the new faces at the Wanyore club.
7 KCB-Kenya Cup reigning champions
Kenya Cup Champions KCB Rugby confirmed the arrival of three players ahead of their title defense.
The Club made a statement signing after confirming the arrival of Kenya Sevens star Alvin 'Buffa' Otieno. Buffa joins the den from Kenya Cup side Homeboyz.
The bankers have also signed Bob Muhati from Homeboyz ahead of the new season. The champions also roped in Blak Blad's half back Brian Wahinya.