Kenya Lionesses' World Cup dream shattered in Colombia loss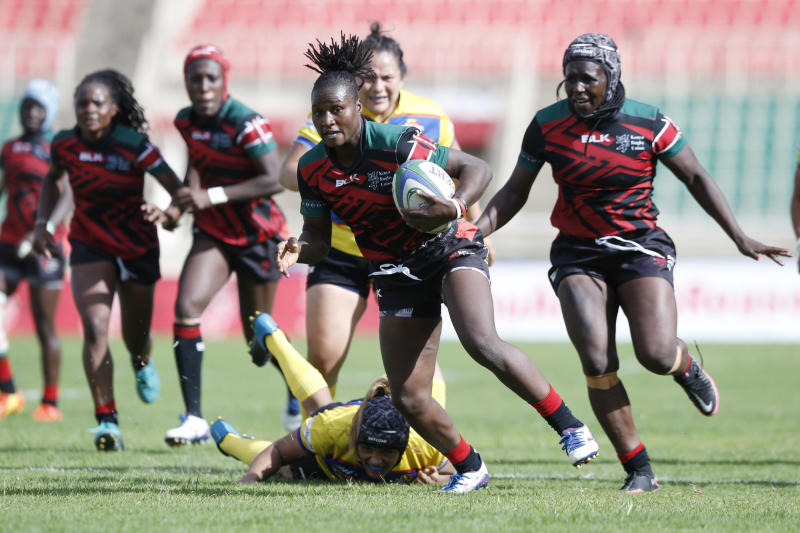 Kenya Lionesses' World Cup hopes are over after a narrow 16-15 loss to Colombia in pre-World cup qualifier play-off match played at the Nyayo National Stadium.
Colombia proceeds to a four-team Repechage tournament where the winner will qualify for Women's Rugby World Cup to be held in New Zealand in 2022.
Kenya needed a win of any sort in the Repechage Qualifier match to qualify for the next stage where they would compete with sides from Europe, Asia and Oceania (Samoa) for the last ticket to Rugby World Cup in New Zealand.
However, Colombia fly half Maria Alzuaga had other ideas after breaking Kenyans hearts with her 16-point performance, scoring two unconverted tries and two penalties to lead the South Americans to the next stage.
Leah Wambui and Janet Okello crossed over for Kenya's two tries as Grace Adhiambo added five points in the defeat.
Wambui went over for Kenya with Grace Adhiambo adding the extras for the away side to lead 7-11 at the interval after Alzuaga had scored two penalties and an unconverted try for the visitor.
Kenya Lionesses took the lead to 15-11 after Adhiambo's penalty and Janet Okello's corner flag try but a five-pointer from Alzuaga ensured the South Americans qualified.
The defeat now stretches the Lionesses losses to five in a row since competitive rugby resumed after the coronavirus pandemic.
Heading into the match, the national team had lost all their recent matches starting with a 37-15 aggregate defeat to Madagascar (27-15 and 10-0) in the Rugby Africa Women's Cup last month before falling to South Africa (66-0 and 29-22) in test matches a few weeks ago.
Lionesses Squad: Sinaida Nyachio, Sinaida Aura, Janet Okello, Philadelphia Olando, Christabel Lindo, Grace Adhiambo, Judith Auma, Juliet Nyambura (captain), Staycy Atieno, Evelyne Kalemera, Bernadette Olesia, Peruce Muyuka, Mitchelle Akinyi, Enid Ouma, Leah Wambui
Replacements: Knight Otwoma, Mercy Migongo, Rose Otieno, Naomi Amuguni, Laureen Akoth, Faith Marindany, Sarah Oluche, Moreen Muritu.