Kenya Simbas keep 2023 World Cup dream alive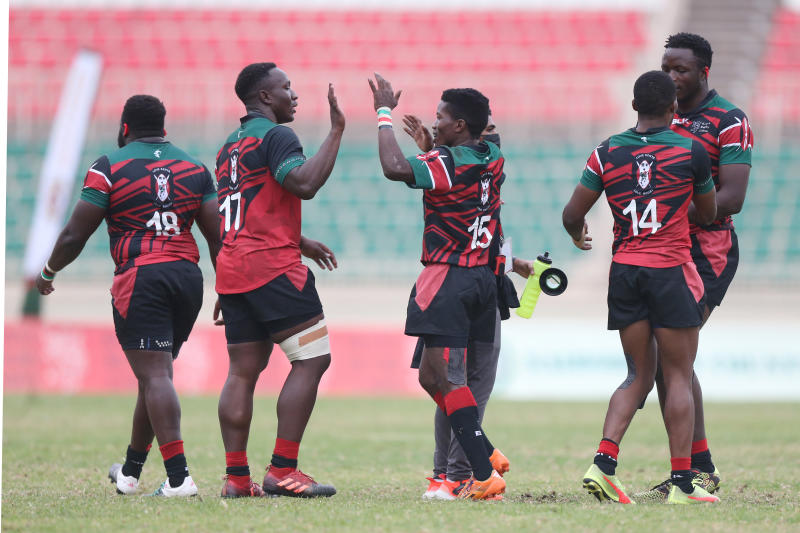 The Kenya national 15s rugby team, Simbas, can still dream of qualifying for the 2023 Rugby World Cup they knocked out Zambia in the Rugby Africa Cup Pool B match played in Nairobi over the weekend.
Kenya needed to defeat Zambia to join pool leaders Senegal in next year's eight-nation final Africa World Cup qualifiers. Senegal finished as pool B winners after beating both Kenya and Zambia.
The Simbas had lost 20-19 against Senegal in their opening Pool B Round 2 match on July 3 and were staring at elimination which they overcame after being inspired by Fijian born utility back Jone Kubu.
Kubu, who plays for Kabras Sugar RFC, scored 18 points in the opening half to add to his club mates' George Nyambua's brace and Brian Tanga's try. Joshua Chisanga scored the other try to keep Kenya's dream of securing a slot to the World Cup alive.
"Making the World Cup in France is something much bigger than just rugby for us. To us, it's to bring the country together, to bring all the different races, tribes, ethnic groups and disparate social groups together for the country to start believing in the men," Head coach Paul Odera told World Rugby.
"What's driving me is my passion and that passion is what I'm trying to get into the players, into my coaching staff, into the Kenya Rugby Union as an organisation."
"We are transforming this country through the game of rugby and we're going to get success on the field and we're going to get success off the field," he said.
Kenya will now join Namibia, Ivory Coast, Tunisia, Zimbabwe, Senegal, Ghana and Uganda in a streamlined Rugby Africa Cup quarterfinals next year.
Meanwhile, the Kenya national under 20 rugby team defended the Rugby Africa U20 Barthes Cup.