From Kibra to the world: How slum life shaped Benjamin Ayimba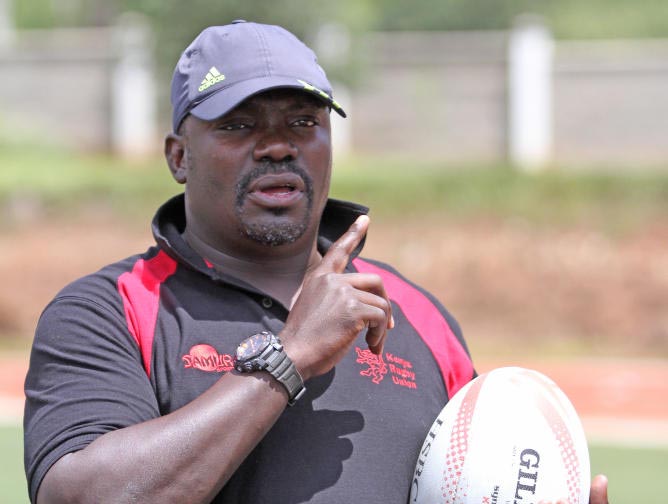 When the history of Kenyan rugby will be written, the name of the late rugby legend Benjamin Otieno Ayimba will definitely be in one of the chapters.
He was a winner right from childhood to adulthood before losing the battle to cerebral malaria on May 21 aged 44.
But it appears the rough and tumble life at Karanja Road in Kibra where he was born and bred shaped his rugby career as he bullied his way through life.
While Ayimba's aggressive nature earned him the nickname 'Bulldog' in his formative years while attending Olympic Primary School, he was forced to switch from football to rugby due to lack of football skills and finesse.
Granted, he lacked the deft touch that would make Spanish football legend Andrés Iniesta smile nor did he possess the dribbling skills that would rival Barcelona star Lionel Messi.
But he at least found solace in rugby where he would make a name for himself thanks to his pace and hard-tackling abilities as well as tactical prowess.
But the former Kenya Sevens and fifteens captain's whose legend grew into international reverence in 2016 when he masterminded Kenya's Main Cup triumph at Singapore Sevens after thrashing Fiji 30-7 in the final, made friends and foes in equal measure with his perceived no-nonsense approach and unflattering statements during his two coaching stints at Shujaa.
Prior to the Singapore triumph, Ayimba had guided Kenya to her first-ever World Series final in 2009 in Adelaide followed by a maiden semifinal appearance at the 2009 Rugby World Cup Sevens in Dubai.
But he was portrayed as a coach who attracted both admiration and resentment in his line of duty, winning himself love and loathe at the same time.
Ayimba clashed with the Kenya Rugby Union bosses on some occasions over players' rights and welfare that mostly led to his sacking both in 2011 and 2016.
And even as he is laid to rest today in his native home Uranga, Siaya County, it is evident he has left an imprint in the game.
From the Kenya Rugby Union (KRU) officials to family members, former teammates, current players and childhood friends all have described Ayimba as a revolutionary and true servant of the game.
While relieving his memories with Ayimba both as a teammate at Impala RFC and national team coach, KRU chairman Oduor Gangla said he has impacted many people in the sport.
"Benja touched the lives of all the people who he came across in a positive way. He left an indelible mark in the history of our rugby and our country. A man of many firsts, he lifted the name of this country well beyond the wildest dreams of this country," said Gangla.
"His rugby talent and ethos enabled him to play or coach at the major rugby cathedrals of the world. A recognizable figure in the World Series, he brought all the majors tumbling. He was the first man to probably believe that Kenya could beat any team – Fiji, New Zealand the works and instilled this in the players' minds. We will never forget the 2009 victory against Fiji and the 2016 World Sevens Series victory."
Recalling how he stood by Ayimba when other board members wanted him out during his two stints as KRU boss, Richard Omwela, challenged both the government and the Union to name a facility in honour of the Maseno School alumnus.
"Most of the board members didn't like him because they thought he was uncontrollable. He would take a decision and he wouldn't want to be questioned about it. But for me I felt he is a daredevil coach who would take us where I wanted," said Omwela.
"He is a coach who believed in his players. I was very happy to stand by his side and believed in him. I would love to see one of our National Sevens Series (Dala or Nakuru Sevens) named after Benja because he is a true legend. When the history of rugby is written his name will be over it. From the time he started playing in 1995 to the time he coached. He is not a person we are going to forget easily."
And having served as Ayimba's first captain when he was appointed Shujaa coach in 2006, former Kenyan international Humphrey Kayange credited him for developing talent and instilling confidence in the team.
"Benja is a person who never minced his words. It was quite funny and interesting. We were gearing up for Rugby World Cup in Dubai in 2009, we had just finished training when Benja called me aside and told me that I will lead the team," said Kayange.
"There were a lot of senior players ahead of me but he trusted me with the armband. I'm indebted to him because most of my achievements in my career came during his reign and we were also able to put Kenya on the global map.
"He identified many talents and developed them into stars. He had that ability of keeping all of us together, instilled confidence in the team and that's how we ended up playing for him.
"Brother's keeper is a phrase he used a lot and he meant whatever we did off the pitch would make us stronger on the pitch. He really loved life and he would ensure we go out either over a drink and engage during tours; I guess the bond that we built during his time has somehow kept all of us together."
He added: "For those who played with Benja or were coached by him will definitely miss his encouraging words and interactions. A piece of our lives has gone and we will definitely miss the man that he was. The Kenyan rugby fraternity has not only lost a son but a revolutionary who fought for the players' rights and took responsibilities of the team. He played a huge role both for the national team and clubs he coached. He was the youngest coach, yes, but it was easy for him because as a former player he knew the system better. We had some sense of loyalty to him."
Kayange's sentiments were echoed by Kenyan legend cum Ayimba's close ally Oscar Osir.
"We were friends playing together but the brotherhood kept us strong. His friendship was very sincere and candid that shaped many of us. Though I didn't follow him to Nondescripts when he left us (Impala) in 2002, he convinced their then chairman to take me to Cornish Pirates," said Osir.
Kenya Rugby League Federation chairman Richard Nyakwaka said their remarkable friendship of almost 30 years with Ayimba blossomed because they shared the same ideologies.
'Since we had travelled the world together, we jointly pushed for reforms at KRU. We both agreed that rugby for a long period had been considered as a 'Ngong Road' game and we needed to demystify it and take it to other parts of the country," said Nyakwaka.
"Ayimba was a rugby intellect, who saw an opportunity and knew how to benefit the public. His mind was always clear when he wanted something and he never shied away from talking the truth and moving forward to get it done.
He added: "With very minimal resources he delivered a title in Singapore, but unfortunately he was brought down by the poor system and wrangles at the union. That was a big loss to the country and a missed opportunity for the growth of rugby.
"He developed many players and some of them are now coaches. So, whenever you see Kenya win a trophy on the global scene it will always trickle down to Ayimba. He is arguably the father of modern rugby in Kenya. That will be his legacy forever. It would also be great if we name a street after him or even a mountain."
While his elder brother Victor (Ayimba) revealed how Ayimba followed a different path from his uncle who was a tennis player, his childhood friends recalled their moments with the fallen legend.
"Competition started from the house because of the big family, but was a stubborn type of a child," said Victor.
"That stubbornness turned into firm leadership; if he believes something is right you won't coerce him to say otherwise. My uncle who played tennis at Impala used to go with him there but he ended up picking something else."
Kevin Muoki, Benja's childhood friend said: "Benja wasn't good at football and that's how he got his nickname bulldozer because of his aggression and physicality," said Kevin Muoki, Benja's childhood friend."
"Even after becoming a rugby star, at no single point would Benja distance himself from where he grew up. He was a very down to earth person in terms of relating with the people."
Sally Mwenesi and Jacinta Nzomo added: It was difficult to win against the boys especially when Benja was in the team. Of course us girls were a bit cunning but Benja found a way to make sure our cunning nature is put in check. The boys never liked him in their football team but he was very fast in races."
The multi-talented Ayimba, who tried his hands and legs in nearly all sports while at Olympic Primary School, began his rugby career at Maseno School.
And for Milton Nyangaga, a man who honed Ayimba's rugby skills at Maseno between 1991 and 1994, his student outdid him in coaching.