Kabras's Ashiundu handed 9-week ban as KU's Songoi sees six weeks out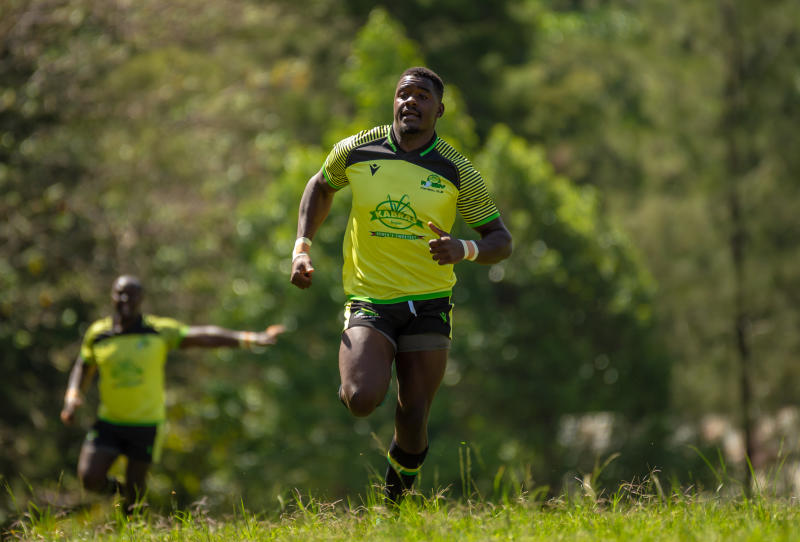 Kabras Sugar winger Derrick Ashiundu has been handed a nine-week ban for recklessly tackling a player whose feet were off the ground, under World Rugby Laws of the Game.
World Rugby Laws of the Game 9.12 states, that a player must not physically abuse anyone.
Physical abuse includes, but is not limited to: biting, intentional contact with eye (s), reckless contact with eye (s), contact with eye area, punching or striking with hand or arm (including stiff-arm tackle), striking below the elbow, striking with the shoulder, striking with the head, striking with the knee, stamping or trampling, tripping, kicking.
The ban will see Ashiundu miss up to nine matches following his red card against Kenya Harlequins last weekend.
Ashiundu was issued with marching orders in the opening minutes of the clash against Quins after his tackle on Boniface Ochieng.
According to the judicial report, the tackle was reckless as the opponent landed on his head hence a 10-week ban which was reduced by one week.
The player is expected to return to action on May 29th when the Kenya Cup season will entering the semi-final stage.
The winger has 48 hours to appeal the decision by the Judicial Committee chaired by Duncan Ndegwa.
Ashiundu has had an impressive stay at Kabras earning a start in each of the sugarmen's matches played this season and has scored two tries.
He joined Kabras in November last year after completing a move from former Kenya Cup side Western Bulls.
Kabras Sugar management has since appealed the ban and are awaiting feedback.
In the meantime, Kenya Cup has also reported that Blak Blad's Brian Songoi will serve a six-week ban following his red card during the 32-19 loss to KCB last weekend.
The judicial report states he struck KCB number 12 with a straight arm in the neck which was reckless. He was also found guilty of punching the KCB's 12 on the head.
Songoi was charged and his sanction takes place with immediate effect and runs until 2 May.