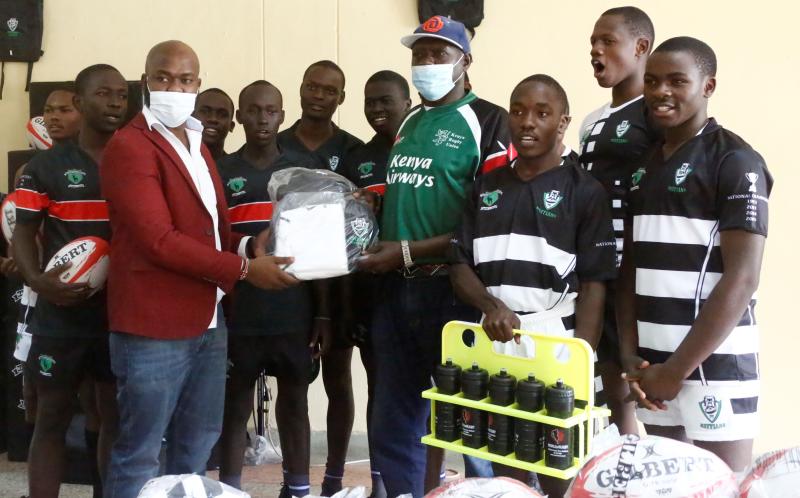 Kamau tasked to rejuvenate and transform the school's rugby fortunes
Former rugby champions re-appoint Ben Kamau as part of plans to reclaim national and regional titles.
Former Nakuru RFC international scrum-half Ben Kamau has been re-appointed as a director of rugby for Nakuru Boys High School 7s and 15s teams for a period of four years.
Kamau, who had initially handled the team popularly known as 'Las Ruffians' between 2001-2007 was re-appointed to handle the technical bench that has seven coaches under the stewardship of two experienced assistants in Kevin Ndirangu and Nakuru RFC team manager Hillary Kisangi.
Kamau whose initial tenure saw him lead the team to three national titles and two East African Secondary Schools Games titles is expected to rejuvenate and transform the side to its former glory as a national and regional rugby giants next season.
'Las Ruffians' Alumni chairman Dishon Nyakwara confirmed Kamau's appointment saying he is the perfect bet to lead the transformation of the team that was once a force to reckon with in the national and regional championships.
"Our aim is to see the institution regain its lost glory and ensure we churn out national team players as was in the past," Nyakwara told Standard Sports when the team received sports kit worth Sh600,000 donated by a former student Brian Wanyama, who is based in South Africa.
The equipment included full uniforms and boots, balls, water bottles and a range of traning gears, which were received by Nakuru Boys High School Principal Mike Yator, also an an alumnus of the school and a qualified referee recognised by Kenya Rugby Referees Society (KRRS).
Yator welcomed the donation saying it was a good gesture and they would go a long way in nurturing talented players in the school .
"This is a game that requires intelligence. Discipline plays a key role in careers of players, it leads them to become role models," said Yator while calling on the players to take their academic work seriously.
Kamau said they'll carry on from where they left 13 years ago and promised to do all in his means to improve the rugby standards of the school.
Former and current players graced the occasion with a number of them allowed to give their experiences in their hey days to advise the youngsters on how to overcome the current challenges. Most students complained of lack of a qualified coach, which was swiftly addressed by Nyakwara after extensive consultations with his committee to bring back Kamau on board.
The school's deputy principal Peter Maina urged the students to work hard to attain good grades.
"Since the life span of a player is short, they need to work on their education to improve on their chances of employment opportunities to lead a happy life in retirement," he said.