How rugby gave Kenya Lionesses star Grace Okulu a second chance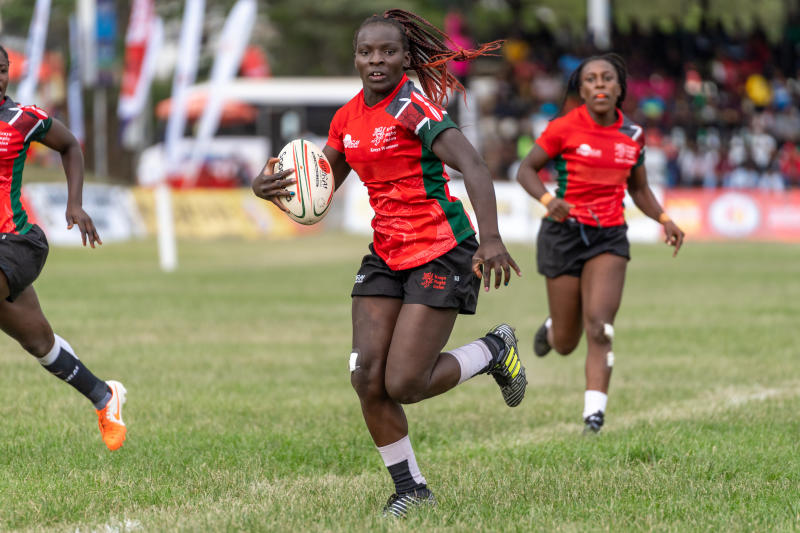 Kenya Lionesses star Grace Adhiambo Okulu opens up on her childhood struggles
Nakuru RFC fly-half explains why she ditched football for rugby as she dreams of 2020 Tokyo Olympics.
Looking at Grace Okulu mastery of the game, one would not understand the pain the fast-rising Kenya Lionesses fly-half endured as she grew up.
From her childhood, the Nakuru RFC utility player's talent and skills were a joy to behold.
But just like many greatest athletes in the world, who have made fortunes from sports, Okulu was born with no hope for tomorrow due to the poor state of her family in Rhonda Estate, Nakuru.
The 23-year-old Form Four student at Spotlight Academy has had a steady rise in her career since making her international debut at the age of 17, when she played against Japan in the 2016 World Sevens Series in France.
Since then, Okulu has established herself in Felix Oloo's team that qualified for the 2020 Tokyo Olympic Games last year.
She has also featured for Kenya in different competitions including the Africa Women's Cup, 2018 Commonwealth Games qualifiers, 2018 Hong Kong Sevens and the 2021 Women's Rugby World Cup qualifiers.
But even as she aims to achieve her Olympic dream next year, Okulu , who switched from football to rugby against her mother's wishes, admitted that rugby has not only given her hope, but also changed her family's lifestyle.
Okulu, who missed the 2016 Rio Olympic Games due to school commitments, secured a secondary school scholarship through her national team coach Felix Oloo.
"Sports has given me a name. Rugby has given me a good life, a second chance and an education. I can now support my family with earnings from rugby. Playing the sport has also taught me more about humility and self-discipline," Okulu told the Olympic Channel.
"I come from a very humble background. I am grateful I had the opportunity to play rugby when I was so young."
"I had a lot to endure while growing up. I started school late when I was seven years old. My older brothers were in high school and college, and my parents, because of their limited resources, preferred to educate them first."
Okulu added: "It has been a great journey. I got an education sponsorship through my coach and I usually save some money I get from Kenya Lionesses, which I use to pay for my sister's school fees. The most important thing is to make sure my parents live a better life."
"I can't wait to compete in my first Olympics; it's the biggest stage. It will change our lives, our mindset while at the same time, boost our game. I think being called up to the Lionesses at that stage, and even playing at the Games will be a huge honour."
But having spotted her during primary school games, Oloo is not surprised by Okulu's breakthrough.
"She has given me a lot of options. She can play in almost all positions - scrumhalf, fly-half, centre or winger, apart from forward. Any coach would love to have her on his or her team," said Oloo.
"People never understand why at her age, she is still in school. It was difficult for her. I used to hide her age from other players, just to protect her esteem and morale."
Okulu adores New Zealand's Olympic silver medallist Portia Woodman