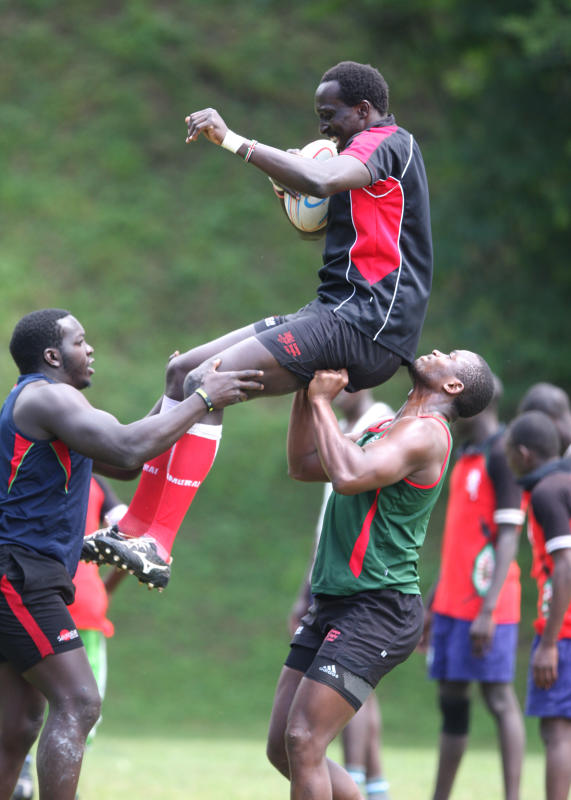 Former Shujaa captain reflects on a far fetched Olympic dream that became a reality
Kenya rugby Sevens legend Humphrey Kayange says he'll forever be grateful for playing a part in ensuring the sport is included in the Olympic Games.
SEE ALSO: Bale refusing to be forced out of Real Madrid despite latest Zidane fall out
The celebrated former Shujaa captain, who is also the National Olympic Committee of Kenya (Nock) athlete representative, was preparing for the penultimate event of the 2008-09 World Rugby Sevens Series at Twickenham Stadium, London when he received an unusual request.
Through an email, the World Rugby invited the Mwamba RFC star and St. Peter's Mumias High School alumnus to remain behind after the tournament and join the team that would make rugby's case for inclusion in the Olympic Games.
SEE ALSO: Former Real Madrid chief expects club to send Bale out on loan
The team was composed of Kayange, then-World Rugby chairman Bernard Lapasset, Chief Executive Mike Miller, former Argentina captain Agustín Pichot, Kazakhstan captain and referee Anastassiya Khamova and Australia's Rugby World Cup Sevens winning captain Cheryl Soon.
The selected few had less than one month to prepare for their first presentation to the International Olympic Committee (IOC) Executive Board in Lausanne in June.
SEE ALSO: Ronaldo tells Pirlo what Juventus must do next after Champions League exit
"For me, it was really humbling just knowing that I had a part to play in the process. The people who were in the team were real legends in the sport," Kayange told World Rugby.
But the 2009 IRB Sevens Player of the Year nominee, who was part of the Kenyan team that won the historic 2016 Singapore tournament and participated at the inaugural rugby the 2016 Rio Olympic two years before retiring from international rugby, admitted that it wasn't an easy task.
"I had no clue of what was going to happen. It was a full day; there was a full programme planned out. When each one of us was presented with a script, we were required to go through it and figure out what one needed to change or add," said Kayange.
"We had some trial runs with the team just to see how everything was working, what the question was and just how everyone was playing their part in terms of the bid process."
"So, we did that for two days, and that's when it hit me that this is going to be a really big thing because of the intensity that was in the room."
"Bernard Lapasset, who was the World Rugby chairman, Mike Miller, and everyone in the room were just trying to ensure that everything was right ahead of the presentation."
The team's hard work paid off and on 13 August 2009, the IOC Executive Board recommended both rugby Sevens and golf be included in the programme for the 2016 Olympic Games.
However, that recommendation was not binding as the sports faced a separate vote by the IOC Council on 9 October; they needed a majority vote to confirm their place in Rio.
In preparation for the Council vote in Copenhagen, World Rugby brought on board the late New Zealand legend Jonah Lomu to boost their efforts.
Kayange was more than excited to work with the All Blacks legend Lomu-the man who had changed the face of the game with his speed and size.
"I grew up looking up at guys like Jonah Lomu on the rugby scene," Kayange said.
"Just being in the same room as him and being able to present your story was really humbling. I was really honoured, and excited as well."
"He was a true legend and growing up, every rugby player wanted to be like him."