Why coach Oloo goes back to the grassroots in search of raw talent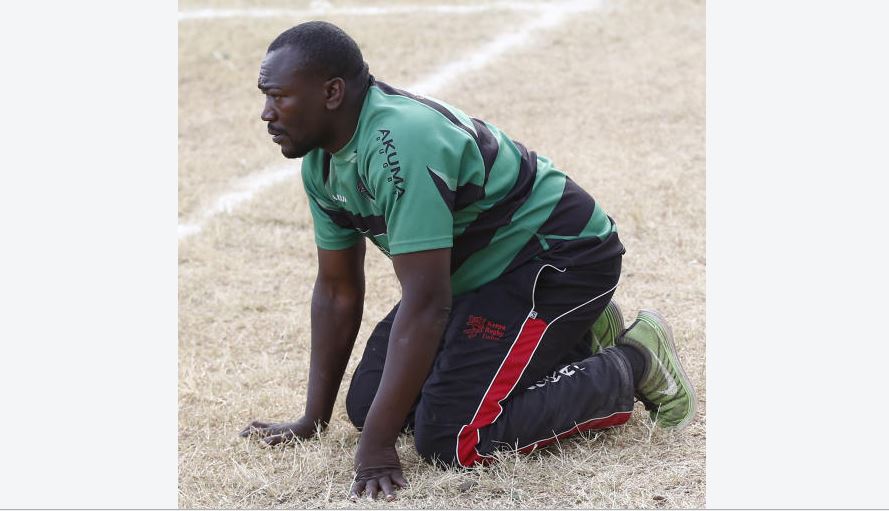 For Kenya Lionesses head coach Felix Oloo, eye for detail isn't just another buzzword.
He is a tactician who thrives in guiding the youth into successful careers and his end products have seen him being considered as one of the best grassroots coaches in Kenya today.
Results of his work saw him being appointed the national women's team coach last year.
And when he took over as the Kenya Lionesses tactician, it did not come as a surprise to the former rugby star.
His meticulous way of doing things has been a guiding star to numerous youngsters who've turned into national stars for Kenya Simbas, the national Sevens side and Kenya Lionesses.
Oloo boasts an experience of 11 years of nothing but shaping the destinies of hundreds of talented rugby youngsters under the auspices of Top Fry Nakuru RFC's Age Grade Program at Nakuru Athletic Club.
In Kenya, there are only two Age Grading Rugby centres, who's programs have seen the sport being embraced in primary and secondary schools.
The two are at Nakuru Athletic Club under Oloo and at Impala RFC under veteran tactician Fred Oloo.
And when Oloo takes to the pitch, he does it with all the zeal expected of a tough tactician, whose fatherly commands are received with smiles and applaud.
Over the years, his target has been to shape the local talent, which has improved the livelihoods of many children and for them to change their mindset and embrace the game of rugby, which was initially believed to be a dangerous and elitist sport.
"It has not been easy to come up with such an initiatives, which have inspired young players and their parents to embrace rugby instead of other more popular disciplines like football and athletics," he told Standard Sports.
Some of the players, who have benefited from the program include Nakuru RFC and Kenya Simbas' flanker Monate Akuwei, Menengai Oilers winger Peter Wanjala, 18-year-old international referee Lawrence Ishuga and several other Nakuru RFC ladies, who are currently plying their trade with the Kenya Lionesses.
The women ladies include Grace Adhiambo, Vivian Akumu, Angeline Awino, Fresha Awino, Laureen Akoth, Veronica Wanjiku and Sophy Ayieta, who has since moved to Homeboyz RFC.
Out of the seven ladies, it is only Awino (Fresha), who is still in secondary school. She's in Form Two at Tumaini Secondary, in Nakuru.
On her part, Wanjiku's debut in international championships was this year during the World Cup qualifiers in South Africa.
For him to concentrate better, Oloo has been working over weekends and during school holidays.
"I use this period because that's when we have ample time to take all players on different drills and skills, while allowing them to fully exercise their talents," said Oloo.
Some of them have become development coaches. They include James Ng'ang'a (Nakuru West Primary School), Olivia Igogwa (Nakuru Day Secondary School) and Nakuru RFC's Cassius Omollo, who coaches Sure 24 and Molo RFC.
Most of these players and coaches have an average age of 22 years.
Asked the about the challenges he faces in his daily work, Oloo paused and said:
"It is not an easy task as it requires dedication from the coach and commitment of players in everything for us to move in the right direction."
In as much as Oloo would have wished to have a flawless progress, his exercise has, however, been riddled with endless challenges including lack of adequate finances, equipment as well as managing their growing expectations.
"Club politics is another challenge that at times, pollutes the minds of these young players especially when we are unable to meet their expectations," said the coach, who also trains Nakuru RFC.
On how he manages to deliver his duties for both the club and national team, Oloo said it is one tough balancing act that requires commitment.
He also admitted that his biggest challenge is working with the Kenya Lionesses, who have already qualified for the 2021 Tokyo Olympics.
"Coaching women players requires close supervision as compared to their male counterparts," said the former Kenya Simbas flanker.
However, Oloo said women players are more dedicated in training than their male counterparts.
"They (women players) are willing to learn new techniques and are passionate than male players. Therefore, it is easier to coach them. Their resilience saw them qualify for the Tokyo Olympic Games," he said.
On his national and international exploits, Oloo said he has guided his sides to different finals in different tournaments and championships.
"Practically, it is not easy to achieve this in many crucial tournaments both in Kenya and other international assignments," he said.
Besides the international championships, Oloo has toured the United Kingdom three times with Nakuru RFC's Age Grading boys' and girls' outfits (Age Grade Four sides) in 2011, 2013 and 2015, finishing runner-up in the three occasions.
With the Kenya Lionesses, he has toured Uganda, Tunisia, South Africa and Dubai.
Against Uganda in the Elgon Cup final, Kenya won both legs (48-11 at home (38-11 in Kampala), before overcoming Tunisia in the Olympic qualifiers in October 2019.
And in the World Cup qualifiers, Kenya lost 37-0 to South Africa, who made it to the coveted tournament to be held in New Zealand next year.
Kenya will take part in Repacharge Cup and were scheduled to take on Colombia in Nairobi last month, but the fixture was postponed to a later date due to the coronavirus pandemic.
And in Dubai, Kenya Lionesses lost to France Development side 10-0 in the final having earlier beaten them 14-5 in the preliminaries of the 2019/2020 HSBC World Sevens Championships.
Asked if he had reached the pinnacle of his career, Oloo said better things are yet to come.
"Good things come when you start to register positive victories at an early age and with experience, better things will come in different sequence although it is not easy to maintain the same form for a long time," he said.