Martin Owila: My love for rugby, the gospel and youth mentorship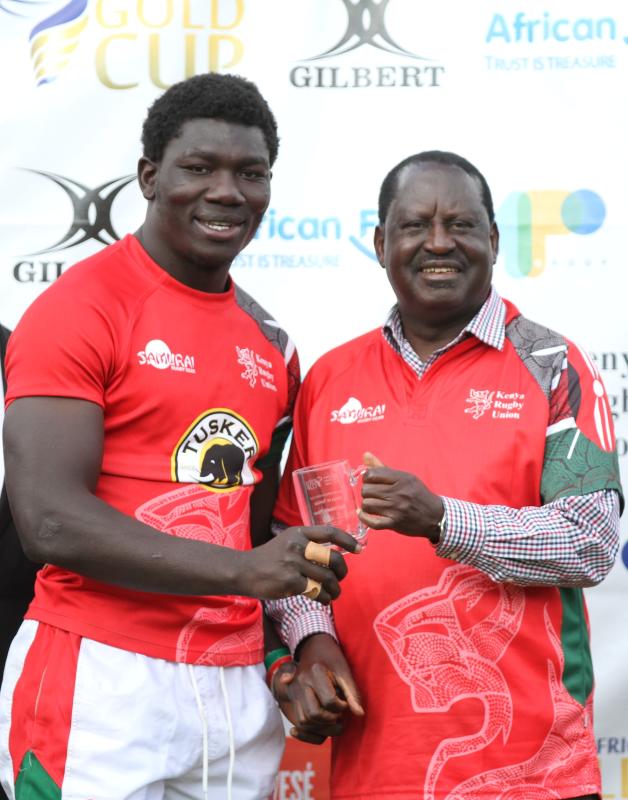 Martin Owila Omondi grew up in a rural village of Manyatta in Kisumu County. The 25-year old flanker playing for KCB RFC hails from a family of sportsmen notably his uncle Dennis Timon who played for the Kenya Morans.
Owila has won the Kenya Cup four times, The Elgon Cup once, and has played for the national 15's side and the Kenya Seven's side. He is a public health officer and also the founder of the Mentor-me program. In an exclusive interview with GameYetu, he talks to us about his journey in rugby.
When did your love for rugby start?
I have been a lover of sports growing up but my passion for rugby started when I was in form two at Homabay High School. I used to play handball then later tried football as a goalkeeper. I was in a dormitory called 'CERES' that housed most rugby players and I got recruited when we were engaging in Inter-house games.
Did you start at the current position you are playing?
I got called up as a lock number 5 which used to be my position while playing for Nakuru RFC and coming to the national team I blended well and I moved to the back row position majoring in numbers 6 and 8 the flanker position which I currently play at KCB RFC. Since then my rotation has remained to be the two positions with roles and responsibilities a little different depending on the game plan.
Why this position?
We as individuals have different play and skills and my type of play suited this position plus I can be used sometimes as a utility forward.
You have played for Kisumu Rugby, Nakuru Rugby, and now Nairobi Rugby how is the fan experience in these areas?
Kisumu RFC was the foundation of my club rugby. The fan base there although small at the time was known because of the enthusiasm and energy and use of the Luo accent when chanting and supporting the team. Nakuru RFC aka Wanyore remains the best for me. I have never seen a fan base well organised and hyped. They used to terrorise Nairobi fans those times when most matches were held in the city. At KCB RFC the morale is on another scale plus we have a well-structured union that enhances players' welfare.
What is the most memorable thing for you in your days playing for Kisumu RFC?
Being part of the team that was promoted to Kenya Cup and beating Kenya Harlequins in our Eric Shirley Shield Championship. The other memorable moment was winning the Jinja Ten Aside in Kampala with Kisumu RFC led by Coach Osano.
What about Nakuru RFC?
When I moved from Kisumu RFC to Nakuru I did not have a trophy so winning the Kenya Cup in the 2014/2015 season with Nakuru stands at the top. Followed by bagging the award of the highest try scorer in a season that we went 13 matches unbeaten at our home ground Nakuru Athletic Club aka Suguta Valley.
What is the stark difference between your current club and your immediate former club Nakuru RFC?
Switching from Nakuru RFC was necessitated by my university education. I changed school from Mount Kenya University Nakuru campus to the main campus in Thika. The major difference is playing with new players and experiencing a new game plan.
How was your experience debuting for the National side?
It was a great experience because it was my first time to visit Madagascar and I was privileged to start all the matches.
What is the longest injury run that forced you to seat on the bench?
Longest is when we were in France for the Reparcharge tournament I suffered a knee injury tearing my ligament. I had to undergo a reconstructive surgery that saw me stay out for eight months.
How do you combine playing rugby with spreading the gospel and leading a mentorship program?
At first, it wasn't easy I had not known how to balance the three, a mistake that proved costly for me in 2017 as I was dropped from the National Sevens team on our fourth tour to Cape Town because I was missing training sessions.
So I have learned since then to plan and have a routine on what I am doing. For instance, my mentorship forums are done on Mondays and Fridays when I am not training.
On the ministry side Ecclesiastes 9:10 is the verse that keeps me going it says; whatever your hand finds to do it with all you might and strength and I try to do that in everything I do.
If you weren't playing rugby which sport would you be playing?
I would be playing football am a good goalkeeper.
Are you single?
No. I am currently dating.
What is the biggest misconception people have about you and rugby in general?
The biggest misconception about rugby is that we are womanizers which is a fallacy. The only thing I know is that we just play rugby any other thing is an individual's choice.
What next after rugby for you?
My exit plan is to focus more on my field of study that is public health and continue with my mentorship program and of course serving on the technical bench as a team manager.