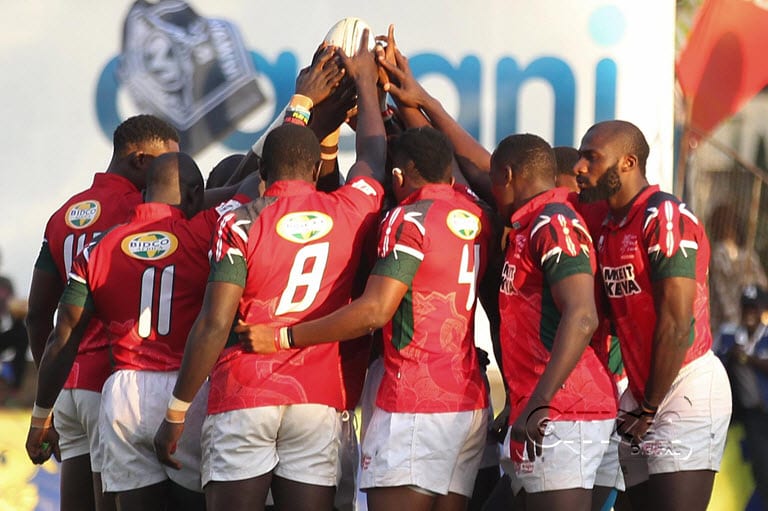 Solid defending and retention of possession from restarts came in handy as the Kenya Rugby Sevens team Shujaa stormed into the Main Cup quarter-finals of the Cape Town Sevens after finishing second in pool D yesterday.
Wins over Samoa and Australia, coupled with a 24-24 draw against Ireland in an eight-try thriller, were enough to see the Kenyans qualify for the quarter-finals for the first time this term.
The team had fallen short at the season-opening Dubai Sevens last weekend after losing all their preliminaries to South Africa, England and Spain.
Qualification to the Main Cup quarter-finals means that Kenya is assured of at least 10 points from the Cape Town assignment even if they fail to progress further.
In their three fixtures, Shujaa, who are currently 13th on the series standings with four points, showed improvement at the breakdown with Alvin Otieno's individual brilliance also coming into play.
Having had a good outing in Dubai, Otieno, who handed an Australian opponent a powerful hand-off on his way to scoring the match winning try in Kenya's hard fought 12-7 victory yesterday, is having perhaps his best start to a season since making his Shujaa debut in 2016.
Buffa, as he is popularly known, has five tries to his name so far having scored in each match in Cape Town and he could add on to that tally when Kenya face South Africa in the Main Cup quarter-finals today.
"Buffa is a character that has come in and really changed everything because he is playing very well and we'll keep on encouraging him," said Kenya captain Andrew Amonde.
"We didn't have a good tournament in Dubai after losing our first two matches but we decided to work hard and take each game at a time," Amonde said following their win over Australia, a result that all but sealed their place in the Main Cup quarter-finals with a game to spare.
It was Nelson Oyoo's try-saving tackle on an Australian opponent at the start of the second half that proved to be the game-changer.
At that period Kenya were hanging on for dear life after Vincent Onyala's centre-post five pointer had been cancelled out by Joe Pincus' converted try.
With Samoa and the Aussies occupying fourth and fifth positions prior to the Cape Town event, the pair were the pre-tournament favourites to progress to the last eight.
They will now have to play in the classification matches after Shujaa and the Irish upset the form book.