Kenya stares at relegation from World Sevens Series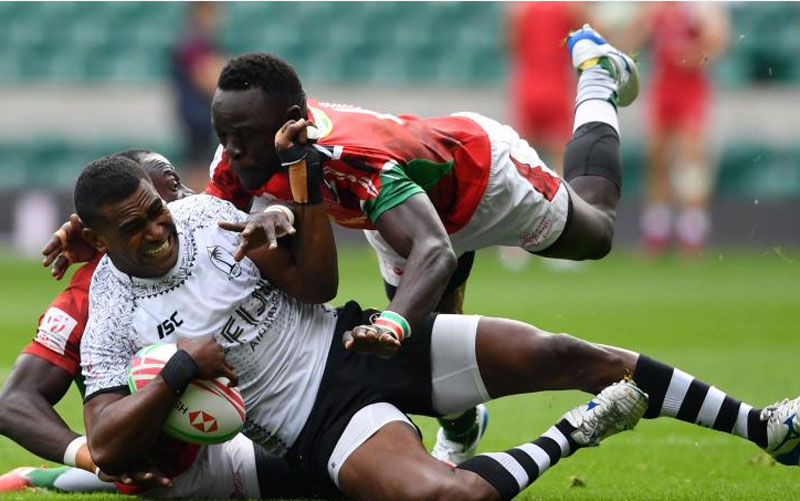 Following Kenya's disastrous outing at the London Sevens last weekend, reality has sunk that the team may be relegated from the World Sevens Series when the 2018-19 season culminates in Paris this weekend.
Shujaa, who picked one point from the two-day showpiece at the Twickenham Stadium, dropped one place on the standings and are now 15th with 27 points, just two above Japan who occupy the relegation spot.
For a team that finished eighth last season after collecting a record 104 points, it was unimaginable that the Kenyans would be hanging on for dear life at this point of the campaign.
During that record-breaking 2017-18 season, Kenya, under the tutelage of Innocent Simiyu, reached seven Main Cup quarter-finals, picked 10 points in Dubai and a similar number in Las Vegas and Hamilton.
They also wrote history by reaching back-to-back Main Cup finals in Hong Kong and Vancouver, earning them 19 points in each of the outings.
And with the prospect of relegation looming, the question Shujaa faithful are asking themselves is, how did their beloved team, which only a season ago was competing for the Main Cup, sink this low?
It is evident the national Sevens team's woes emanated from the consistent wrangles between senior members of the team and their employer, Kenya Rugby Union(KRU) before the season started.
The experienced players were opposed to their employer's decision to slash their pay and they, therefore, opted to stay away.
Kenya had to field a relatively inexperienced squad during the first six rounds of the series and this showed on the field as the rookies, despite exhibiting flashes of brilliance, failed to go past the pool stages, their best performance being a 10th place finish at New Zealand's Hamilton Sevens in January.
KRU, in a bid to control the damage, struck a truce with a host of senior players, who agreed to return for the seventh and eighth legs of the series in Hong Kong and Singapore but there was no reprieve.
Relegation from the World Sevens Series is costly as the funding by World Rugby differs for core teams and none-core nations.
Shujaa go to the final leg of the series this weekend.