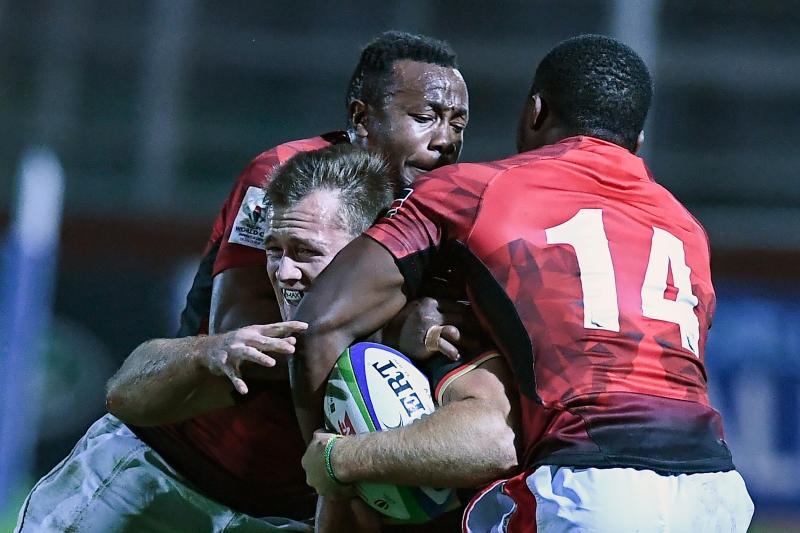 Kenyans leave France without a single win as they also lost to Canada and Hong Kong.
SEE ALSO: Why Du Plessis quit champs Kabras Sugar
A 43-6 loss to Germany capped Kenya's underwhelming performance at the 2019 Rugby World Cup Repechage as the tournament concluded on Friday in Marseille,France.
In what was the second meeting between the sides in two years and the Germans got onto the score sheet through seven tries and four conversions as Kenya's Simbas managed two penalties.
SEE ALSO: Salah double keeps Liverpool on track for points record
Impala fly-half Samuel Oliech provided the Simbas with a perfect start, firing home a first minute penalty for a 3-0 lead.
A relentless Germany would take the lead through Sebastian Ferreira's converted try as Oliech struck his second penalty to reduce the deficit for the East Africans.
SEE ALSO: Sports CS Amina Mohamed will run for WTO Director-General
Kurt Haupt gave Germany a 12-6 lead at halftime with an unconverted try before they completed the rout in the second half courtesy of five tries and three conversions.
The loss ensured Simbas finished last in the four-team showpiece having soaked in 150 points in three matches.
Ian Snook's charges fell 65-19 to Canada in the opener before letting go a 12-7 halftime lead to lose 42-17 to Hong Kong in their second fixture.
"It has been a very good experience for the country,we have taken lessons and seen the level we need to aspire too and that is what we will be working towards for the next qualifiers," Kenya captain Wilson K'Opondo told World Rugby after the match against Germany.
The Kenya Harlequin lock wants the team to play high-profile friendlies so as to be at par with the best sides and boost their chances of qualifying for subsequent World Cups.
"We need to have such calibre of test matches so as to raise our level and the more we do this the better we get going forward," K'Opondo said.
"A big thanks to our fans, sponsors and World Rugby who have facilitated some of our programmes to get here. A big thanks to everyone," he said.
Meanwhile, Canada became the 20th and final team to qualify for the 2019 Rugby World Cup in Japan after beating Hong Kong 27-10 in the second match of the evening.
Canada, who have never failed to qualify for the World Cup, scored through tree tries, three conversions and two penalties.
The North Americans consequently got a slot in pool B of next year's global showpiece and they will face holders New Zealand, South Africa, Italy and African champions Namibia in the preliminaries.