Rugby players accused of rape released on bond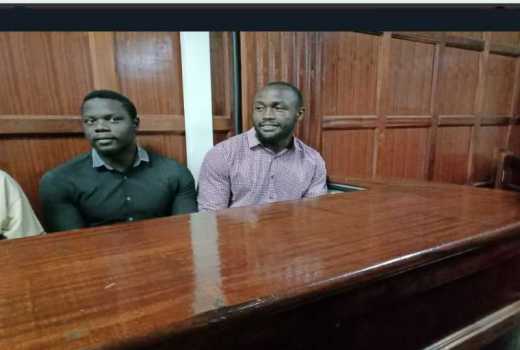 Two rugby players Lawrence Frank Wanyama and Alex Mahaga Olaba were arraigned in Milimani Magistrate Court where they were charged with gang-rape on Monday morning.
The duo were accused of intentionally and jointly raping a local singer on February 11 at Seefa apartments in Highrise in Nairobi.
While appearing before the Chief Magistrate Francis Andayi the two denied charges which contravenes section 10 of the Sexual offenses Act.
Wanyama and Olaba were then freed 1million shillings bond with a surety of the same amount or a cash bail of 500,000 shillings.
Defence counsels Wafula simiyu and Ombui Ratemo pleaded for lenient bond terms saying the two are contracted players of the National Rugby team hence they are not a flight risk.
Lawyers further persuaded the court for the duo to have their passports returned since they underwent DNA tests already, and they will be required to represent the country in the fourth coming rugby games.
The two, who play for Kenya Harlequin FC were arrested after a woman identified in court as W. A. claimed that one of the players who was her friend raped her after she had agreed to go to his house for her birthday on February 10.
But while talking about the incident on the social media, the complainant took to her twitter page to narrate her experience in more profound way but put in another dimension to the story.
She alleged player drugged her and then raped her with his friend, whom she did not know. What would ensue would be another claim that she was pregnant she wanted the players charged.
She said:
"I was slipping in and out of consciousness maybe due to shock but I was helpless. I couldn't fight two men who play rugby professionally, obviously they were stronger hence I let them do whatever they wanted to do the whole night."
"I could've reported the case to police but I was in denial, shock, pain and exhausted! I didn't want to report also because of the profile of one of these rugby players," she added.?