Rugby Sevens: Vélez punished Kenya for a kick off blunder to release Barbier to wreak havoc on Simiyu's lads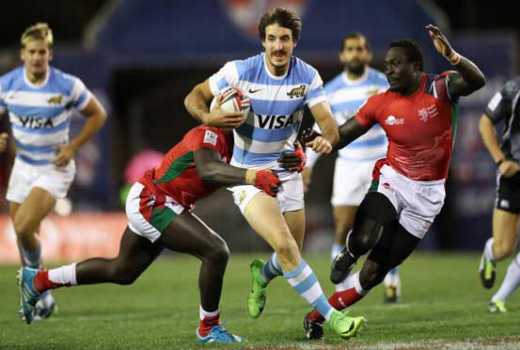 Argentina halt Kenya's charge
Shujaa had pulled a stunning 17-14 victory over Fiji but were pegged back by the Pumas.
A kick off error cost Kenya a semifinal ticket at the USA Sevens after the national Sevens rugby team lost 17-12 in the closing stages of yesterday's quarterfinal at the Sam Boyd Stadium in Las Vegas.
With time running out, Lautaro Bazán Vélez capitalised on Kenya's kick off blunder to give the ball wide to Renzo Barbier, who secured the last points of the half for the Los Pumas 7s.
The defeat saw the former Singapore Sevens Champions get relegated to the fifth place semifinals, where they were due to clash with Australia last night (11.50pm) in the fifth round of the 2017/2018 HSBC Sevens World Series.
Conrad Roura put Argentina in the driving seat with a quick solo score, pouncing on a loose ball to cross before Gastón Revola added the extras.
However, a good build-up from Kenya saw Nelson Oyoo draw level with Eden Agero, successfully converting it.
Argentina regained the lead through Felipe del Mestre's unconverted try. But Kenya continued with their fighting spirit after the break, with Billy Odhiambo combining well with Agero to set up Willy Ambaka for the second try.
But Vélez punished Kenya for a kick off blunder to give the ball wide to Barbier who touched down for Los Pumas 7s victory.
Kenya qualified for the last eight after pulling a 17-14 victory over Fiji in their final Group A match yesterday, to finish second in the group.
Collins Injera cancelled out the Fijians' opening try as the two teams went into the break tied at 7-7.
Willy Ambaka shrugged off a challenge from his marker to hand Kenya a 12-7 lead after Agero's conversion miss. But Fiji responded quickly to make the scores 14-12 before an infringement from Fiji gifted Andrew Amonde a winning try at the death. This was Kenya's second victory after beating Russia 19-12 on day one.