Kenya beat resilient Zimbabwe: Simbas pull stunning performance to win in tough away tie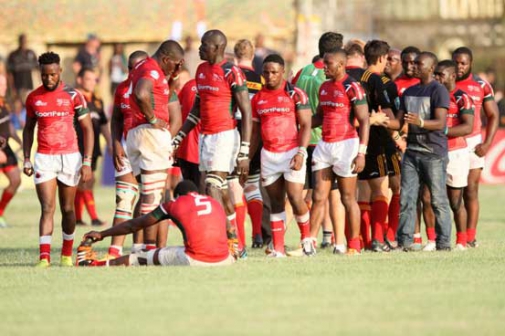 The win helped Simbas remain at the second spot on the table with 17 points.
Kenya Simbas laboured to beat a resilient Zimbabwe 41-22 in Game Three of the 2017 Africa Gold Cup at the Hartsfield Stadium, in Harare-Zimbabwe, yesterday.
The hard-fought victory saw the Simbas remain at second spot on the table standings with 17 points, three points behind leaders and their next weekend's opponents Namibia who silenced Uganda 48-24.
It was Kenya's third win in a row after beating Senegal 45-25 last weekend.
Captain Wilson K'Opondo inspired the Jerome Paarwater's side with a converted try as Samson Onsomu, Davies Chenge, Martin Owila and Moses Amusala also got their names on the score-sheet with instrumental Darwin Mukidza converting them and sending in two penalties.
Kenya went ahead through Mukidza's penalty before Tich Makwanya converted Hilton Mudariki's try to hand the Sables a 7-3 lead.
Despite the hosts' dominance in possession, Sam Onsomu raced to ground Kenya's first converted from Peter Karia's offload.
But Zimbabwe regained the lead (12-10) when Takudzwa Kumadiro went over at the right hand corner for his sixth try of the championship.
However, KCB hooker Davis Chenge touched down Simbas' second converted try for a 17-10 halftime lead.
Prop Moses Amusala would extend Kenya's lead to 24-10 with a converted try two minutes into the second half after a good run from Joshua Chisanga.
Tichafara Makwanya narrowed the gap to 15-25 after successfully scoring a penalty as they strongly restricted Kenya into their own half. They were then rewarded with a converted trymaking the scores 22-25.
But substitute Owila opened the gap again scoring a converted try from the maul before he set-up captain Wilson K'opondo for a sixth converted try for Simbas.
Mukidza then hit the final nail in the Sables' casket with a well taken penalty kick for Kenya to secure a hard fought 41-22 victory.
Meanwhile, the Brumbies fell to the reigning champions at Canberra Stadium for the first time in seven years, the defeat ending Australia's involvement in the competition two weeks early.
Larkham departs to focus on his assistant coaching role with the Wallabies full-time and leaves the Brumbies with a sound record, having guided them to the playoffs in each of his three seasons in charge from 2015-17 and as part of a co-coaching set-up with Laurie Fisher in 2014.
Following the departure of a raft of seasoned players at the end of last season, the Brumbies were widely expected to slide out of contention for this year's playoffs.
In the end, a modest 6-9 win-loss record was enough to top the struggling Australian conference and capture an automatic berth into the postseason.
"I think they said that we were going to come fourth in the Australian conference," a defiant Larkham told local media.
"We certainly achieved a few things this year and put ourselves in a really strong position for next year.
Following on from Larkham's rise to head coach after serving as an assistant to Jake White, incoming coach Dan McKellar has also been promoted from within.