Nail biting Cup final: Crunch match.Daggers drawn as champs Kabras clash with KCB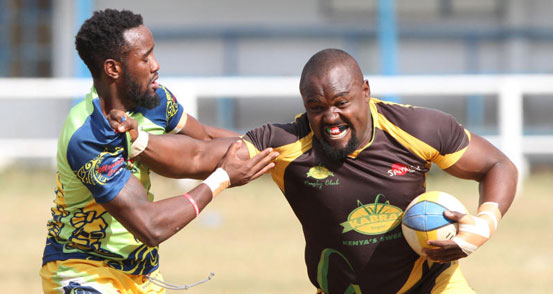 Will Kenyan Commercial Bank continue with their dominance against Kenya Cup champions Kabras Sugar when the two sides clash in today's final at KCB Sports Club?
The last time KCB clinched the Cup was in 2015 when they beat the millers 27-3 a one-sided final to end their seven years title drought at RFUEA Grounds before Kabras lifted their first ever Cup title the following season.
KCB saw off Kenya Harlequin 19-12 to set up a repeat of the 2014/15 final against Kabras, who silenced Homeboyz 22-17 in the other semifinal encounter.
But having dominated the meetings between the two clubs since Kabras' promotion in 2014, the bankers, who finished fourth last season, have been considered the favourites for the title.
And having declared to have a fully fit squad including the likes of instrumental full-back Darwin Mukidza and captain Curtis Lilako at his disposal, KCB coach Curtis Olago is confident of claiming their fifth Kenya Cup trophy.
"It has been a great season winning one game after another; our journey is a testament of hard work, we will just play our game and leave the rest to God," said Olago.
"We have been keen on gaining maximum points and the boys have played very well this season. We are looking forward to grabbing our fifth Kenya Cup trophy."
But Kabras assistant coach Antony Ogot played down revenge talk despite them failing to secure a win against KCB, a team he was in for 16 years.
"KCB will be out to defend their unbeaten run against us, but we also want to defend our title. Everybody knows it will not be an easy match. My players are aware of the task lying ahead, but I believe in them. They have worked hard to reach this stage, so it is upon them to finish the job they started," Ogot said.
"I played at KCB, but right now I am coach, so there is nothing about revenge here. We play to win not to revenge. There is no pressure. Win or lose life must go on."
The millers will rely on the quartet of Ugandan sensation Phillip Wokorach, Fijian Jone Kubu, Hillary Mwajilwa and Felix Ayange to end their winless jinx against KCB.