LAISER HILL TRIUMPH: Upper Hill fall in rugby finals as Kamusinga and Kimilili win in handball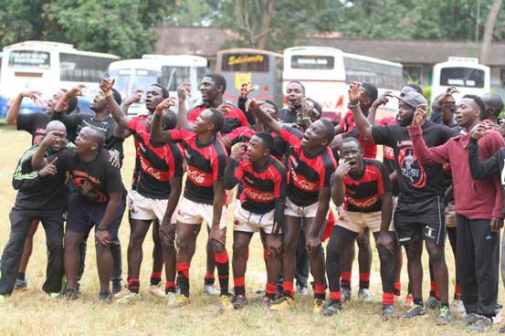 Laiser Hill Academy are the new Kenya Secondary Schools Sports Association (KSSSA) rugby Sevens champions.
The Metropolitan Region students were crowned winners following their 24-20 conquest over perennial rivals Upper Hill as curtains came down on the 2016 national Term Two A games at Kangaru School yesterday.
Last year's champions St Peters Mumias settled for third place after defeating former title holders Maseno School 19-10 in the third place playoffs tie.
Laiser Hill captain Daniel Taabu once again led his side from the front scoring four tries. Edwin Kombo and Bruce Abinta converted once each for Laiser Hill.
Upper Hill dominated the second half scoring three tries through Maxwell Omondi and Meshack Oluoch in addition to Said Abdalla's first half try.
Taabu said that they made it happen through hard work, determination and desire to excel.
"We resolved to make the best out of the only chance we had after failing to shine in the 15s.
"I am delighted that through hard work, determination, hours of commitment and teamwork it has come to pass,'' Taabu said.
He added that their main objective is to complete a double just like they did last year in the 15s contest.
"We are determined to win the East Africa title as that is the only way we can defend our honour. We are definitely going for it.''
Laiser Hill had humbled St Peters 17-12 while Upper Hill walloped Maseno 19-0 on their way to the finals.
Meanwhile, St Luke's Kimilili and Moi Girls Kamusinga triumphed in their respective finals matches to extend their reign at the helm of secondary schools handball.
The Nzoia Region duo were in a class of their own as they outclassed their opponents to maintain the status quo.
Kimilili overpowered Makongeni of Metropolitan 23-12 to win a record eighth title while Kamusinga thrashed Sega Girls of Lake Region 25-12 for their fourth title in a row and fifth overall. Kelvin Imo starred for Kimilili with nine goals while Kennedy Simiyu was lead scorer for Makongeni with three.
Isaac Kololi who was instrumental for the champions throughout the championship scored five.
Kololi said that the competition was tough but they had an edge over their opponents due to experience.
"It was a very tough match we had to up our game because our opponents were leading us.ccc
"However, our experience is what made the difference because we came into the second half stronger and determined to defend our honour,'' Kololi said.
Kololi added that they will shelve their celebrations and focus on the East Africa games.
"There is no time to celebrate because want to be ready for the East Africa games," he said.
Mukidza's penalty gives Simbas win
Darwin Mukidza's late penalty is all that Kenya Simbas needed to claim their biggest test scalp after beating a resilient Brazil 18-17 at the Zerão Stadium, in Macapa on Friday night.