Kenya rugby Sevens team gets down to IRB business in Paris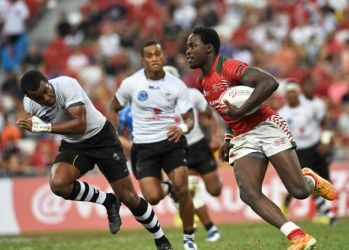 Kenya Sevens rugby team hopes to continue with its fine form in this weekend's Paris leg of World Sevens Series.
After winning the eighth leg in Singapore last month, the Kenyans know much will be expected of them at the end of the three-day tournament.
The Benjamin Ayimba's men, who were to face Portugal in their opening Group A match last night, take on Russia today at 11.30am before renewing their rivalry with fancied New Zealand in their last group match at 3.03pm.
Kenya are ranked seventh on the overall IRB Series standings with 85 points from eight legs.
Meanwhile, Kenya 15s head coach Jerome Paarwater is looking forward to a great international season.
Paarwater, who arrived on Thursday morning from his Cape Town base, linked up with the squad and the rest of his technical bench in Kiserian for a four-day residential training.
The Simbas start their campaign on June 4 with an away first leg Elgon Cup duel against Uganda in Kampala, before travelling to Brazil on June 18 for a test match.
They will then start their Africa Cup campaign with an away match against Zimbabwe on July 9 and Namibia a week later, then host Uganda in Nairobi on July 30, a clash that will also double up as the Elgon Cup's return leg.
Kenya will complete their international fixtures with two home test matches against Hong Kong on August 23 and 27.
The South African tactician said they will take one game at a time and is confident the youthful squad will do well as they prepare for the 2019 World Cup qualifiers.
"We have decided to do things differently. We previously held training camps during the season, but opted to wait until the end of the season before we report to camp.
"I know the team's composition and I don't want to change too many players as we prepare for the Uganda game on June 4 in Kampala," Paarwater said.