KENYA CUP DRAMA: Impala to meet Kabras in final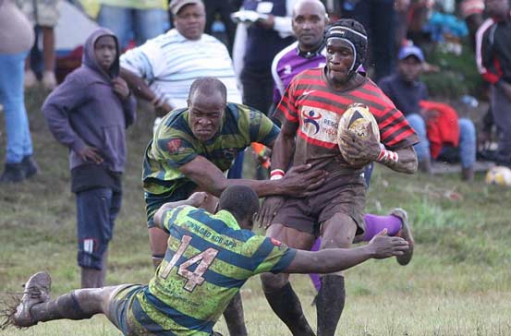 New Kenya Cup champions will be crowned this year after defending champions Kenya Commercial Bank lost 8-7 to Impala yesterday.
Kabras Sugar will now play last year's finalists Impala RFC in this year's final after they stunned hosts Kenya Harlequin 19-15 in the other thrilling clash at the RFUEA grounds.
Impala took the lead through Ian Minjire's unconverted try in the first half before George Okowa's penalty kick made it 8-0. But with eight minutes to go, Peter Karia touched down for KCB before Darwin Mukidza converted. Despite KCB's spirited fight back, the hosts held their nerves to win the match.
At RFUEA, Quins had to finish the game with one man less after substitute Dennis Muhanji was red-carded for unsportsmanlike conduct.
Quins began the match a better side, with Lyle Asiligwa kicking a penalty for a 3-0 advantage. However, Kabras responded swiftly through Brian Tanga's try that was successfully converted by Fabian Olando to hand them a 7-3 lead.
After the break, substitutes Martin Juma, Joseph Amalemba and Sava Racigi scored a try each to secure a final ticket for Kabras. Kabras head coach Mike Bishop could not hide his joy for guiding his side to their second successive final.
"Quins were the better side, but we took our chances in the first half. The introduction of Max Adaka in the second half also changed the game though we relaxed a bit and allowed them to score two tries. But all the same, I am pleased with the performance of my players. We started the season badly, but gained momentum as it progressed and here we are now in the final," Bishop said.
Meanwhile, the Kenya Rugby Union has released calendar of events for the Kenya 15s team. Simba, who have been training, will start their season on July 9 with an away Africa Cup Division 1A competition match against Zimbabwe, before facing Namibia on July 16.