Friday not ruling out return to Shujaa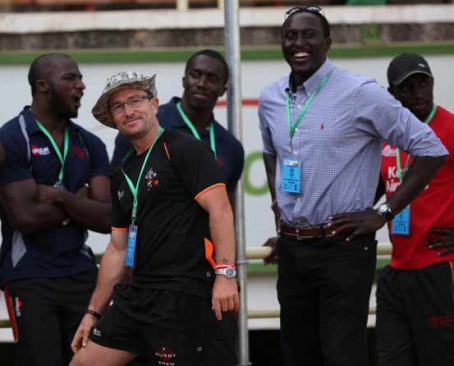 Mike Friday has not ruled out a return to coaching the Kenya Sevens Rugby team.
The Briton took Shujaa to fifth place in the 2013 IRB World Sevens Series, but resigned the same year in July citing interference from certain individuals at the Kenya Rugby Union and insufficient funding.
In an interview with Feverpitch after guiding Samurai International to Safari Sevens title triumph following their 20-19 victory over Shujaa in the Main Cup final over the weekend, Friday whose current contract with the USA rugby team expires in 2017 said he is still in love with Kenya.
"I am committed and still contracted to the USA national team, but with rugby anything is possible. I really miss the Kenyan players as I had created good rapport with and the 40 plus million fans. I might come back, but not anytime soon. Never say never," said Friday, popularly known as Otoyo among his fans.
Friday said he has no regrets over his decision to resign as Shujaa coach, insisting he has targets to achieve with the United States. "I loved the job I did here, but I don't have any regrets, no, none at all. I didn't want to resign, but I was forced by the politics in the union to quit," he said.
"At the moment, I have a lot of projects with the USA team that must be achieved before 2017, and that includes performing well in Rio."
Asked about Kenya's chances to qualify for the Rio Olympics, Friday said: "Kenya has a lot of depth, but their dreams will only be achieved if the union and sponsors fully support the players and the coaching unit.
"From the Safari Sevens, you have seen how impressive the Kenyans have been. I had Oscar (Ouma), Sammy (Oliech) and Felix (Ayange) in my team, all of them were exceptional," he said.