MOMENT OF TRUTH: Clubs vow to send Kenya Rugby Union board home tomorrow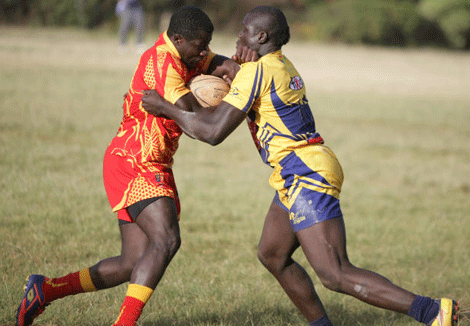 Strathmore's Kenny Andola and Kevin Ochami, left, of Homeboyz in a match organized by Kenya Rugby Union at KCB Grounds Ruaraka on Saturday, January 17th, 2015. Photo/Jonah Onyango.
Rugby clubs have vowed to send the entire Kenya Rugby Union (KRU) board home tomorrow, Kennedy Wasonga, Portland Stormers RFC chairman, has said.
"We have the support of Kenya Cup and nationwide clubs and universities to call for a special general meeting for 4pm tomorrow (Tuesday) at Harlequin. The agenda is to pass a vote of no confidence in the entire board," Wasonga, whose club spearheaded the call for the SGM, told FeverPitch.
He said reasons for calling the SGM included board members who have been implicated in inappropriate conduct - some bordering on corruption - conflict of interest and sponsors being insulted, which made them jittery about confirming their participation in rugby programmes.
Wasonga said Bamburi had not committed to continued support of the Super Series and Safaricom had not committed to the Safaricom Sevens.
Sponsors are waiting to see the results of an on-going audit but Wasonga said the club chairmen selected to be part of the audit team were not wholly committed to resolving the issues and were being perceived in some quarters as intended to sanitise the inappropriate conduct by some implicated board members.
"A lot of horse trading is going on among the board members," he said.
KRU has already pulled out of the prestigious Vodacom tournament citing a lack of sponsors.
NOT TRAINING
Take a quick survey and help us improve our website
Take a survey
The Kenya women's team has been disbanded until further notice for lack of sponsorship.
And the Kenya Under-19s who were a force in the youth Olympics in Nanjin, China, last year and runners-up at the Africa championships for the last two seasons, are not training any more.
Even clubs, including established ones, are finding it very difficult to find sponsorship.
The clubs calling for the SGM have vowed to send everybody home to make way for a new team to spur confidence from sponsors and other stakeholders.
Four directors, Mwangi Muthee (former chairman), Godwin Karuga, Maurice Masiga and Penina Wahome have resigned in the past two months, precipitating a crisis in the union.
Wasonga said they wanted to bring in mature directors who are accomplished people with track records in corporate and sports management and send packing those intent on making a living from the meagre corporate sponsorships.
Observers invited to the SGM are from the International Rugby Board, Africa Rugby Confederation, Ministry of Sports, patrons' society and media.
Jack Okoth, a former secretary general of the union, said: "Kenyans would rather die in office than resign. If Kenyans knew the reasons why four KRU directors resigned, including the chairman, some of the directors in question would be in serious trouble."