Rugby: Kenya kick off dubai campaign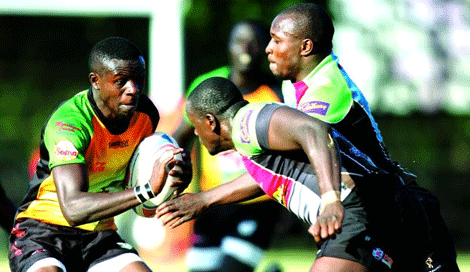 Nakuru RFC Edwin Mbea(L) is attacked by Dennis Muhanji(C) and Sidney Ashioya(R) of Quins during the Kenya Cup at RFUEA in Nairobi on Saturday 25/01/14. Nakuru won 27-23.PHOTO:BONIFACE OKENDO
The Kenya national Sevens team will begin their Dubai Sevens campaign today with a tough fixture against Australia at the The Sevens Stadium.
Australia are currently ranked 8th in the HSBC Sevens World Series, five places above Kenya. The Australians have stated they will be out to remedy past blunders in the Dubai Sevens where they have failed to make an impact.
This may spell bad news for Kenya, who are reeling from a poor start in the campaign and are yet to get back all players for the tournament. According to head coach Paul Treu: "One player is getting his first call up, four players are playing their second tournament.
"Dennis Muhanji is only playing his third tournament since his last outing a few years ago. We are very excited and can't wait to see the guys play."
He added: "We are hit by injuries. Hopefully, Augustine Lugonzo who sustained an injury in Gold Coast will be ready for Wellington. Max Theuri will also be out for a while. We also have some of our experienced players like Biko Adema also injured. Felix Khayange still hasn't recovered from surgery."
True revealed that Collins Injera and Lavin Asego are not available due to other commitments.
"It was a bit of a challenge to put this team together but I think we have a good mix especially with some of the experienced players coming into the side, especially in the forwards," he said.
Treu was upbeat that Oscar Ayodi would add value to the team especially in attack.
"We are looking forward to the next two tournaments and hopefully we can build on the momentum we started, "he said.
Kenya's second game will be against England who are placed third after an impressive start in Gold Coast. There will be no place to hide for Kenya as their third and final game will be against the USA now coached by their former coachm Mike Friday.
Friday and Treu have been involved in a war of words in the past as to how the Kenya team should be handled. It will be interesting to see how the two teams will fare against each other.
Meanwhile in the Kenya Cup, Homeboyz will play Nondies at the Impala Club for the Friday night fixture of the weekend.
Kenya v Australia 10:36am
Kenya v England 1:14pm
Kenya v USA 7:09pm