Shujaa STORM quarters as Morans and Simba Saba register mixed results at Safaricom Sevens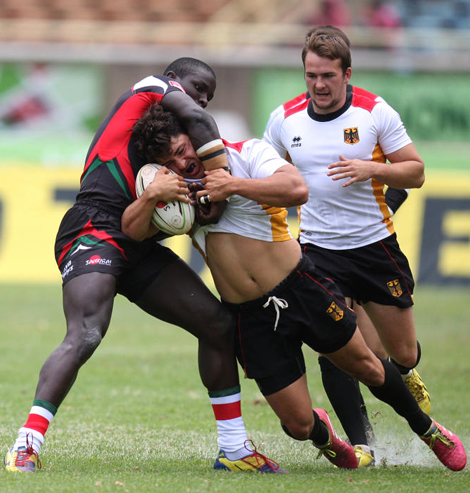 Kenya Shujaa's Andrew Amonde tackles German's Oliver Pain during their Safari Sevens tournament match at Kasarani stadium yesterday. [PHOTO/DENNIS OKEYO/ STANDARD]
Kenyan teams, Shujaa, Morans and Simba Saba registered mixed results as the 19th edition of the Safaricom Sevens kicked-off at the Kasarani Stadium yesterday.
However, Shujaa have qualified for quarters despite starting their title defence with a 20-14 over German in a Group A tie in which that Kenya missed all their conversions before being held to a 12-12 draw by a resilient visiting South African side Sharks.
Oliver Paine put Germany ahead with a third minute try that was converted by Fabian Heimpez for a 7-0 lead. Shujaa responded immediately thanks to KCB winger Jacob Ojee's try, but Tony Onyango missed the conversion.
One minute later, Charles Omondi scored the second try for the hosts after an Oliver Mangeni pass but Onyango again failed to convert as Shujaa went to the break leading 10-5. Maxwell Theuri touched down on restart to make it 15-5 before Paine scored his second try and converted to reduce the deficit.
However, Fabian Olando ensured the Paul Treu men bagged the maximum points with the fourth try, while Mangeni and Omondi scored a try each in their second match against Sharks before they beat Golden Lions 17-12 to proceed to quarters.
In an earlier match, Morans' Leonard Mugaisi and Welsh Warriors' Matt Turner scored a brace each as the two sides shared the spoils in a closely contested Group C encounter.
The Homeboyz winger opened the scoring midway through the first half, but Churchill Ooko missed the conversion before quick tries from Luke Crocker cancelled the lead. But on resumption, Mugaisi reduced the deficit before Ooko and Shaban Ahmed's tries made it 19-19. Morans increased their chances of qualifying for the quarter-finals with an emphatic 38-7 victory over a depleted Boland Cavaliers.
Billy Isabwa touched down his team's first try and successfully made the conversion before speedy Mugaisi scored a brace on the stroke of half time to give Morans a 21-0 lead.
Sino Ganto would then score Cavaliers' only try of the game and made the conversion shortly after the break.
However, Ahmed scored fourth try for Shujaa from a solo effort after outpacing the visitors' defence before Mugaisi scored his third try of the match just after Ooko's try.
Meanwhile, Simba bounced back from their 17-25 defeat to Top Fry Samurai to beat Spain 10-15 thanks to Adrian Apondo's brace and Samson Onsonu's try.
In other matches, Argentina beat Uganda 19-7 as South Africa's Western Province drubbed Suzuki Wailers 38-12.
Elsewhere, Uganda's Kyadondo lifted the Schools title after trouncing 14-7 Impala Academy in the finals while Kenya Lionesses whitewashed Chicago Sirens 71-0 in a curtain raiser tie.
The tournament enters its final stage today with quarters to be played early in the morning before the semi-finals and finals.
Collated Results
Argentina 35-7 Suzuki Wailers, Western Province 24-10 Uganda, Australia Icons 14-29 Welsh Warriors, Morans 26-7 Boland Cavaliers, Argentina 19-7 Uganda, Western Province 38-12 Suzuki Wailers, Iconz 17-7 Boland, Top Fry Samurai 25-17 Simba,
Spain 33-14 Golden Lions, Shujaa 20-14 Germany, Suzuki Wailers 10-24 Uganda, Welsh Warriors 49-0 Boland.